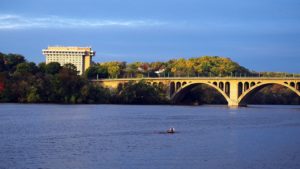 Key Bridge Marriott, Arlington, Virginia
Reservations for the AALA Group Room Block at the Symposium Hotel are available for November 2019 for $179 per night, single or double occupancy. A limited number of rooms are available at the group rate in advance of the meeting dates, which are Thursday, November 7 – Saturday, November 9, 2019. The AALA room block fills quickly, so please book your room as soon as practical.
Start date: Tuesday, 11/5/19
End date: Sunday, 11/10/19
Last day to book: 10/17/19, but the block is expected to sell out earlier.
To reserve your room for the 40th Annual Agricultural Law Educational Symposium and 40th Anniversary Event, please click on this link.