Video replays of the webinars are available to members in the Webinar Archives of the Resources section of the AALA website. Click "Member Login" in the upper right corner and login as a member to access this content. These webinars are organized by AALA's distance education committee, which includes members of the AALA. The technology platform is sponsored by the Center for Agricultural Law & Taxation at Iowa State University.
 . 
Tuesday, July 25, 2023, 12:00 PM (ET)
Understanding the Basics of the Farm Credit System
This webinar will offer an introduction to the structure, funding, and operations of the Farm Credit System, including some of its unique aspects and practical applications for attorneys who work in the area of agricultural lending.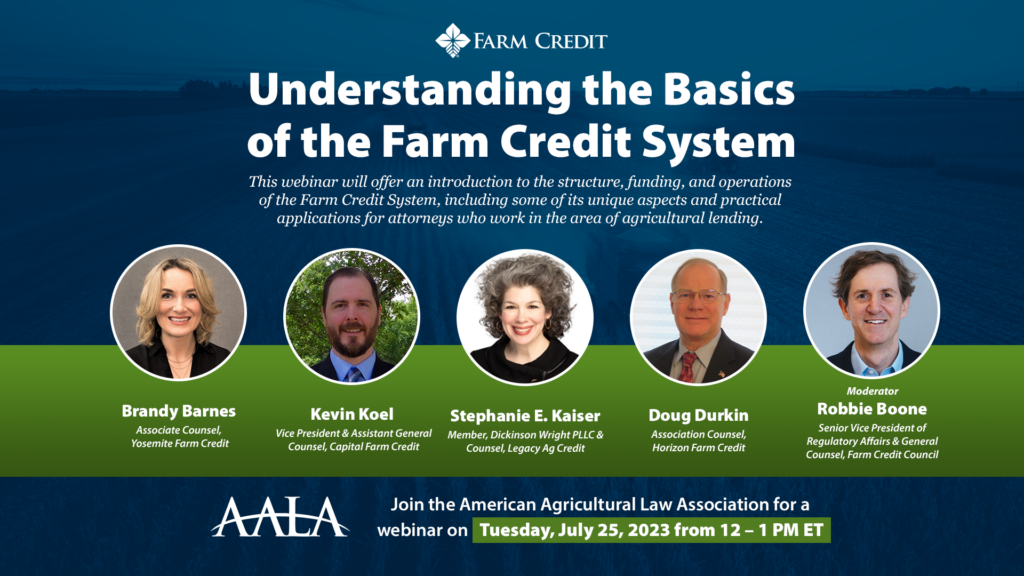 Brandy Barnes serves as Associate General Counsel of Yosemite Farm Credit, ACA and its subsidiaries.
Kevin M. Koel is Vice President & Assistant General Counsel at Capital Farm Credit, ACA (CFC), a farm credit system institution located in the State of Texas. Capital Farm Credit provides loans to farmers, ranchers, rural homeowners, and agribusinesses through its 63 locations serving 192 counties across Texas. Kevin leads CFC's retail legal services team for portfolio loans advising on loan documentation, regulatory compliance, real estate title, lien perfection, community property, litigation matters, and Texas homestead law. Before joining CFC in 2015, Kevin worked in private practice for over 8 years in the Houston area, his practice covering oil & gas, commercial and residential real estate, collection, bankruptcy, and estate planning. Kevin holds a J.D. from New York Law School, a B.A. from the University of Colorado (Boulder), and an A.S. from Red Rocks Community College. He is admitted to practice law in Colorado, Texas, and the Southern District of Texas. Kevin, and his wife, Claire, and their daughter reside in College Station, Texas.
Stephanie E. Kaiser, a litigator based in Dickinson Wright's Austin office, provides guidance to her clients on a wide variety of business and legal challenges. Her detail-oriented yet practical approach to identifying and addressing enterprise risk makes her a particularly skilled problem solver, both in and out of the courtroom. Through her representation of clients in bet-the-company or high-profile cases, Stephanie has built a reputation for successfully handling matters ranging from fraud, breach of contract, and breach of fiduciary duties, wrongful death, workplace disputes and personnel matters to unfair competition, intellectual property infringement cases, Lanham Act allegations, and lease disputes. Though her practice is focused largely on litigation, Stephanie's experience encompasses transactional, real estate, corporate governance, administrative/regulatory, healthcare, and insurance matters. Her clients, which include businesses, corporate executives, and boards of directors across multiple industries, including financial services, general and tower construction, telecommunications, healthcare, security systems and equipment, real estate, and energy, appreciate her sharp eye and wide-ranging perspective. Stephanie has gained particular experience representing creditors in a variety of troubled commercial loan and consumer finance disputes. She has handled matters related to the Fair Credit Reporting Act, the Fair Debt Collection Practices Act, and Equal Credit Opportunity Act, as well as those related to consumer protection laws, the Dodd–Frank Act, and potential regulatory enforcement actions.
Douglas S. Durkin is Association Counsel at Horizon Farm Credit, ACA (Horizon), a farm credit system institution whose territory includes the entirety of Delaware and Pennsylvania, and portions of Maryland, Virginia, and West Virginia. Horizon Farm Credit provides loans to farmers, ranchers, rural homeowners, and agribusinesses through its 25 locations, and also serves orchardists throughout those same five states plus all of Puerto Rico and the District of Columbia. Doug is Horizon's sole in-house attorney responsible for the majority of Horizon's legal needs. Before joining Horizon's predecessor, MidAtlantic, in 2021, Doug served as Associate General Counsel for a federal savings bank with a nationwide mortgage loan business for over 20 years. Prior to his finance experience, Doug served for 9 years as the politically appointed County Attorney in Doña Ana County, New Mexico; Culpeper County, Virginia; and St. Mary's County, Maryland. Doug commenced his legal career in 1981 as a litigator in private practice for 11 years, first in suburban Baltimore, and then in the Breckenridge and Vail area of Colorado, where his practice included litigation involving construction, mechanic's liens, commercial and residential real estate, collection, foreclosure, and representation of savings and loan associations and banks. Doug holds a J.D. from the University of Baltimore School of Law, and a B.A. in History from the University of Colorado at Boulder. He is currently admitted to practice law in Maryland, Virginia, Colorado (inactive), New Mexico (inactive), the US Court of Appeals for the Fourth Circuit, and the US District Court and Bankruptcy Court for the Western District of Virginia. He was previously admitted to the US District Courts for the Districts of Colorado, Maryland, and New Mexico; and the US Bankruptcy Court of Maryland. Further, he was previously admitted pro hac vice for cases in California, Texas, and the US District Court for the District of Connecticut. Doug, and his wife, Norma, reside in Baltimore County, Maryland.
Robbie Boone is Senior Vice President & General Counsel at the Farm Credit Council (FCC), the national trade association representing the institutions of the Farm Credit System before the U.S. Congress, the Administration and various federal agencies. Robbie leads the FCC's efforts to achieve a regulatory environment favorable to Farm Credit's mission to support rural communities and agriculture. He is also responsible for conducting the trade association's legal affairs, including advising the FCC Board of Directors on a variety of related matters. Robbie previously served on the FCC's government affairs team for over a decade. Before joining the Council in 2009, Robbie worked on Capitol Hill for five and a half years –– in a legislative capacity for a Member of the U.S. Senate and the House of Representatives. Prior to that, he was an Assistant Vice President/Analyst for U.S. Trust. Robbie holds a J.D. and M.B.A. from the University of Miami (FL). He received his B.A. from Wake Forest University. He is admitted to practice in North Carolina, District of Columbia, and the U.S. Supreme Court. Robbie, and his wife, Sarah, and their three children reside in Washington, D.C.
Wednesday, May 31, 2023, 12:00 PM (CT)
Grain Elevators & Agricultural Finance
A panel of experts will tackle the topic of agricultural liens (current cases and issues, as well as possible risk mitigation from various standpoints and interests).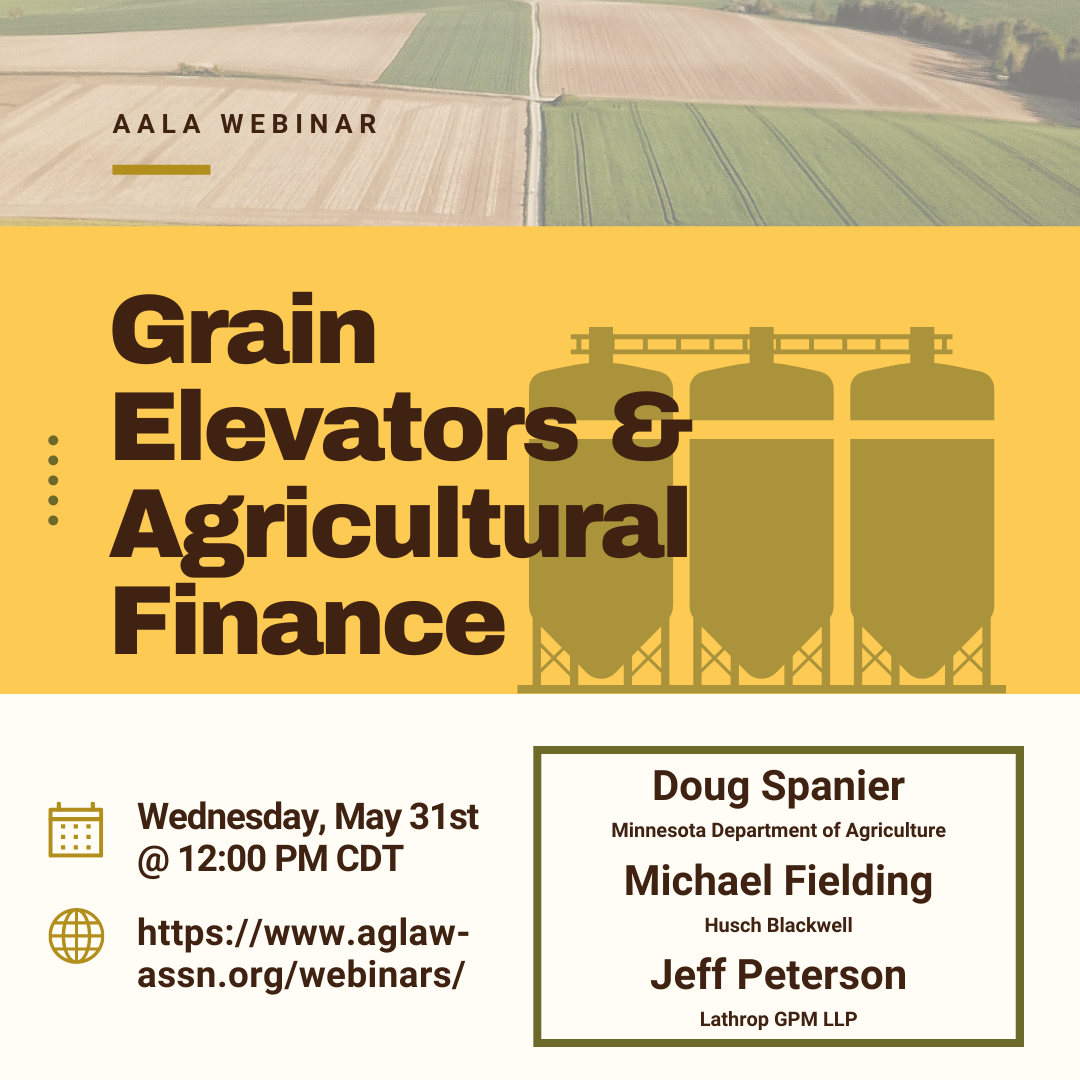 Doug Spanier is General Counsel at the Minnesota Department of Agriculture. He has been at the Department for over 25 years, starting off as a law clerk, then holding different positions such as contracts coordinator, assistant director of marketing, as well as a policy analyst. He also clerked for Judge Bruce Gross of the 5th Judicial District in Windom, Minnesota. He attended St. Johns University in Collegeville, MN, as well as William Mitchell College of Law in St. Paul, MN, now called Mitchell Hamline School of Law. When he isn't working, he is busy dealing with his 4 boys who have now hit their teenage years.
Michael D. Fielding is a partner in the Food Systems business unit of Husch Blackwell LLP in Kansas City, Missouri where he helps clients successfully resolve difficult problems involving distressed agricultural and commercial loans. He currently serves as President of the Ag Law Section of the Kansas Bar Association. He has published more than 40 articles on a variety of legal issues and regularly presents on successfully resolving debt with insolvent and bankrupt debtors. Listed in the 2021, 2022 and 2023 editions of Best Lawyers in America, he has been named multiple times as a "Best of the Bar" honoree by the Kansas City Business Journal, and he was recognized in 2019 and 2022 by IFLR 1000 as being Highly Regarded in Restructuring and Insolvency (Missouri). He is licensed in Missouri, Kansas, Iowa, Nebraska, Utah and numerous federal courts and is board certified in Business Bankruptcy by the American Board of Certification.
Jeff Peterson is a Lathrop GPM partner that focuses his practice on commercial transactions, creditor's rights, bankruptcy, and agricultural and food law. He is a frequent speaker on agriculture and finance topics and is a former chair of the American Bar Association Agricultural and Agribusiness Financing Subcommittee. In addition, Jeff is the current President of the American Agriculture Law Association, a co-editor of the Bankruptcy Practice in Minnesota Deskbook which is published by the Minnesota State Bar Association, and a fellow in the American College of Commercial Finance Lawyers (ACCFL), a professional association of distinguished commercial finance attorneys. Jeff has a background in agriculture and agribusiness, working for Country Hedging, Inc. (the commodity trading subsidiary of CHS) as a commodity branch manager and market analyst in Kansas City, advising clients on commodity hedging strategies and trading agricultural futures and options for grain and livestock producers and grain cooperatives in South Dakota, Nebraska, Kansas, and Colorado.
Tuesday, April 18, 2023, 12:00 PM (CT)
Cannabis & Hemp Derivatives in Tourism & Hospitality: Opportunities & Obstacles
From Amsterdam to California to Thailand, the cannabis hospitality and tourism business is a rapidly expanding industry that adds a major boost to revenues for those jurisdictions in which it is legal. Join us for this panel discussion on industry-related legal aspects of cannabis hospitality and tourism. Learn about guidelines for on-site consumption, use and sale of cannabis, and related products such as cannabis-infused massages, edibles, coffee shops, and haute cuisine – and how regulations can help or hurt cannabis tourism. Of course, no panel is complete without predictions. So, we will provide predictions for the direction of this industry – including legal hurdles preventing expansion.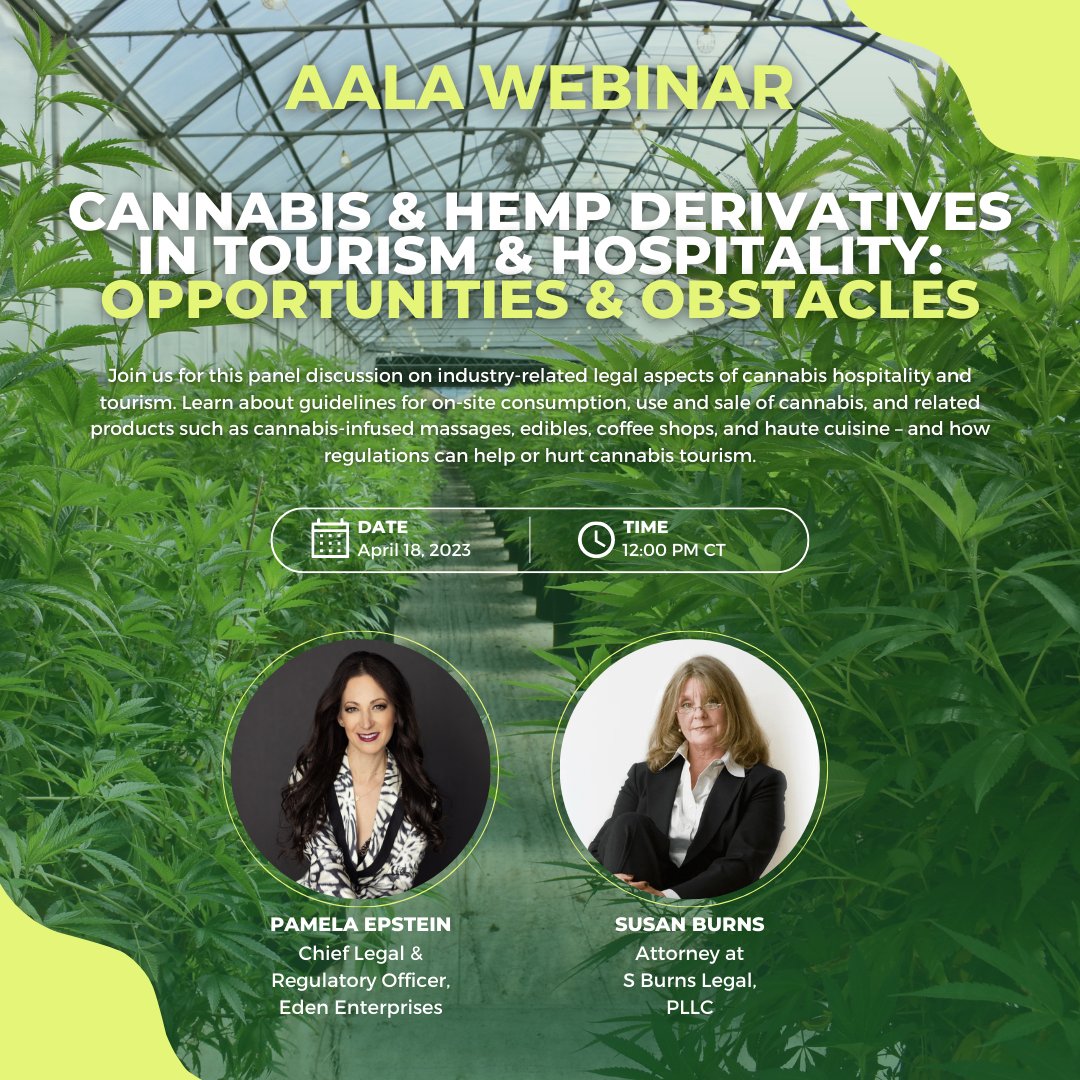 Pamela Epstein is the Chief Licensing & Regulatory Officer with one of California's pioneering vertically integrated cannabis and hemp operators, Eden Enterprises, Inc. She previously was the Founder of Green Wise Companies – Green Wise Legal & Green Wise Consulting, California's premiere full-service cannabis consulting company and law firm, providing a range of legal, consulting, business development and application permitting services to every facet of the cannabis industry. Her diverse background, inclusive of legal, land use, and environmental work, placed her in a unique position to lead and advise her clients and the cannabis community in general. Epstein has become known as a fearless advocate for local cannabis businesses along the supply chain, guiding them through the ever-changing legal and regulatory landscape. Recognized as an expert in her field, she serves as a featured speaker, providing energetic and compelling commentary focused on topics such as land use and zoning, regulatory compliance and environmental issues. Her mission is to advance industry and foster stability and growth. She is a trusted resource for local governments looking to effectively regulate cannabis within their jurisdictions and has served as the Special City Attorney for the City of Hollister regarding their Commercial Cannabis Ordinance. Along with providing her clients with exceptional service she is proud to serve as current President of the California Cannabis Industry Association's ("CCIA") Board of Directors, a member of the In-house Counsel Subcommittee of the International Cannabis Bar Association ("INCBA") and Member of American Trade Association for Cannabis and Hemp ("ATACH") Chairing the Committee on Standards.
Susan Burns is a business lawyer who specializes in guiding businesses in growth mode, strategically using legal to meet their needs. Her practice serves various industries from cannabis processors, manufacturers and retailers to innovative industries in the sustainable food business. She also works with more established businesses such as psychotherapy and health-related clinics, microbiology consultants, and tech startups. Burns functions as an on-call business partner to her clients. As general counsel and strategic business advisor she finds creative solutions to unexpected issues—including partnering with trusted professionals from her extensive network when necessary. She enjoys interacting with socially engaged clients and audiences. Burns' career has focused on "doing well by doing good," and one of her guiding principles is "a bit of world-bettering is always encouraged." She thrives on working with businesses that are making a buck and a positive impact on society. Before starting her own law firm, her work ranged from general practice with small law firms to large-scale litigation with the largest Minnesota firm. Burns is listed among the Top 200 Global Cannabis Lawyers and holds leadership roles in the American Bar Association's Section of International Law, serving as Communications Officer and as Co-Chair of the Food, Ag, and Cannabis Committee. She is also an active member of the International Cannabis Bar Association and board member of the Minnesota Organic Advisory Task Force in addition to serving on the Minnesota State Bar Association Rural and Agricultural Law Council. A Minnesota native, Burns earned her J.D. from Hamline University School of Law (now Mitchell-Hamline) and her B.A. from the College of St. Benedict. She holds an LL.M. in Food and Agriculture Law from the University of Arkansas. She is the founding partner of the law firm S Burns Legal PLLC.
 . 
Wednesday, March 29, 2023, 1:00 PM (ET)
2023 Farm Bill Reauthorization
As Capitol Hill gears up for the 2023 farm bill, hear the latest from a panel of experts about what to expect, challenges that lie ahead, key policy debates worth watching, and the best way to engage in the discussion.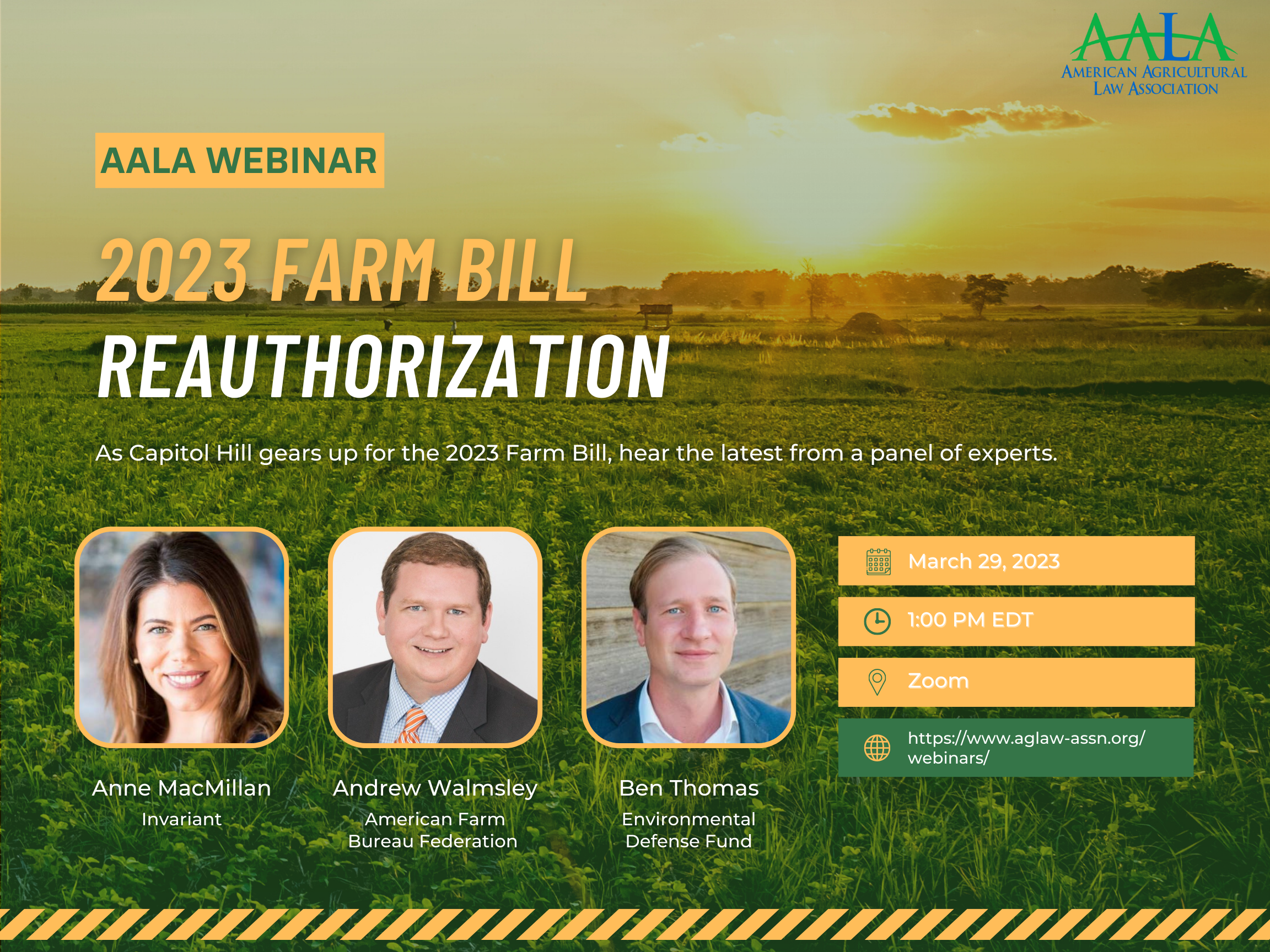 Anne MacMillan co-chairs Invariant's agriculture, trade, and transportation practice, leveraging over 15 years of experience across the federal government and private sector on behalf of industry leaders and trade associations. She served as senior advisor and deputy chief of staff to U.S. Department of Agriculture (USDA) Secretary Tom Vilsack for several years, where she developed and implemented the agency's regulatory agenda and managed the Secretary's policy team. She was also senior policy advisor to Speaker Nancy Pelosi (D-CA) during her first term as Speaker, where she led agriculture, veterans, small business, and government oversight policy for the House Democratic Caucus, as well as coordinated outreach to the New Democrat Coalition and Blue Dogs Coalition. She spent most of her time on Capitol Hill with Rep. Dennis Cardoza (D-CA), where she worked on the 2008 Farm Bill and Endangered Species Act reform. In the private sector, Anne was director of government affairs for The Wonderful Company, a multi-billion-dollar farming and consumer packaged goods company headquartered in California. She is a graduate of the University of California, San Diego, and received her J.D. from The George Washington University Law School.
Andrew Walmsley joined the American Farm Bureau Federation in 2011 as Director, Congressional Relations. In addition to leading the farm policy team, Andrew is charged with managing energy, climate, transportation, and biotechnology issues for Farm Bureau. His work has included regulatory relief for farmers and ranchers, along with securing Farm Bureau priorities in multiple pieces of legislation that were eventually enacted into law. Because of this work, he has been named a Top Lobbyist by The Hill. He has held multiple leadership roles around Washington D.C. He helped establish and serve as chairman of the Farmers for a Sustainable Future Coalition, co-chairs the Agricultural Transportation Working Group, and is a founding member of the Food and Agriculture Climate Alliance. He previously served as chairman of the Agricultural Biotech Alliance, as a steering committee member of the Coalition for Safe and Affordable Food, the Rail Customer Coalition, and as an advisor to the U.S. Chamber of Commerce on their Energy, Clean Air & Natural Resources Committee.
Ben Thomas is the senior policy director for agriculture at Environmental Defense Fund. He focuses on creating innovative and pragmatic solutions to address environmental risks from agriculture by working with key farm groups and policymakers across state and federal government. He has extensive experience working in both state and federal government to develop and implement policy related to food and agriculture. He understands the importance of strategic engagement with stakeholders, including farm groups, to create programs that are effective and workable on the ground.
 . 
Wednesday, December 7, 2022, 12:00–1:30 PM (CT)
Farm Bill 101
Given the expiration of the current Farm Bill on September 30, 2023, this webinar will give an overview and history of the Farm Bill – highlighting why the Farm Bill is important, reviewing what the different titles of the Farm Bill cover, and examining different stakeholder positions. Speakers will share their insights and perspectives as Farm Bill "veterans" on the history, dynamics, opportunities, and challenges of the next one.
Chris Adamo, Vice President of Public Affairs and Regenerative Agriculture Policy, Danone, and former Staff Director, Senate Committee on Agriculture, Nutrition & Forestry
Fred Clark, former Chief Counsel, Senate Committee on Agriculture, Nutrition & Forestry
James Glueck, Vice President, Torrey Advisory Group, and former Staff Director, Senate Committee on Agriculture, Nutrition & Forestry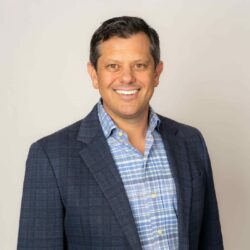 Chris Adamo is Vice President at Danone North America for public affairs & regenerative agriculture policy, assisting one of the world's largest B Corps with strengthening the role of business in driving social and environmental good for all. Chris helps Danone build strategies for implementing regenerative agriculture with farming partners across its supply chain as it strives to measure impact toward climate change, water, and farmer well-being. Prior to joining Danone, Chris spent over a decade at the highest levels of the federal government working on issues related to agriculture, environment and climate change. He served as chief of staff for the White House Council on Environmental Quality from 2015 until the end of the Administration in 2017, where he helped lead the President's agenda on climate change and conservation. From 2011-2105, he led the U.S. Senate Committee on Agriculture, Nutrition and Forestry as its staff director, including the negotiations and drafting of the 2014 Farm Bill, which included new opportunities for landscape-scale conservation and unprecedented investments in healthy foods. Chris began his Senate career in 2005 and was a legislative counsel in U.S. Senator Debbie Stabenow's office starting in 2007, where he worked on priorities such as the 2007 energy bill, the 2008 farm bill, the 2009-2010 energy and climate bill efforts, as well as various other environmental initiatives. Chris graduated with a degree in economics and business from Kalamazoo College and a law degree from Vermont Law School.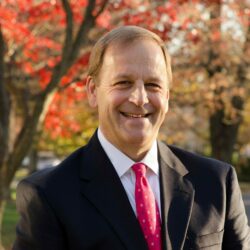 Fred Clark has been directly engaged in drafting each of the past seven Farm Bills, dating back to 1985. Most recently Fred served as Majority Counsel to the Senate Agriculture Committee (for Republican Chairman Pat Roberts) during the drafting of the 2018 Farm Bill, where Fred served as principal drafter of statutory language for the Commodities, Trade, Credit, Rural Development, Research, and Crop Insurance titles. Prior to his Senate service Fred served for 20 years as counsel in several law and lobbying firms, where he focused on agriculture, trade, agricultural research, and finance issues, including drafting major provisions of the 1996, 2002, 2008 and 2014 Farm Bills. Fred served for 10 years as staff in the U.S. House of Representatives, including eight years on the Agriculture Committee serving Democratic Chairman Kika de la Garza. In that role Fred participated extensively in the writing of both the 1985 and 1990 farm bills. Born and raised in San Jose, California, Fred served as FFA State Treasurer before earning a B.S. in Agricultural Business Management from Cal Poly San Luis Obispo and a Juris Doctor from Georgetown University Law Center. Fred retired from his role as Chief Counsel to the Senate Agriculture Committee in February 2022, and has since enjoyed safaris in Tanzania, hiking in the Grand Canyon, and ballroom dancing lessons with Rika, his wife of more than 30 years.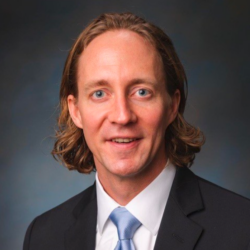 As vice president at Torrey Advisory Group, James Glueck provides analysis, strategic advice, and representation to clients on a range of agriculture and food policy issues. James served as staff director for the Senate Agriculture, Nutrition, and Forestry Committee from 2017 until 2021 under the leadership of Chairman Pat Roberts. In the past, Glueck served as deputy staff director and policy director for Senate Agriculture, Nutrition, and Forestry Committee Ranking Member Thad Cochran as well as a legislative assistant for Senator Mike Johanns. His legislative experience includes work on the 2014 and 2018 Farm Bills as well as biotech disclosure and pesticide registration laws. Prior to coming to Capitol Hill, James worked for Bunge North America, an integrated agribusiness and food ingredient company. Previously, he served at the U.S. Department of Agriculture, including roles as a senior advisor to the Under Secretary for Farm and Foreign Agricultural Services–during the World Trade Organization (WTO) Doha round negotiations and the 2008 Farm Bill, congressional liaison, deputy White House liaison, deputy director of intergovernmental affairs, and confidential assistant in the Farm Service Agency. James received an undergraduate degree in agricultural development from Texas A&M University and a graduate certificate in Advanced International Affairs from the George Bush School of Government and Public Service.
 . 
Wednesday, September 7, 2022, 12:00–1:30 PM (CT)
Agricultural Insolvency: What's Different?
Agriculture is unique, and insolvency is, too. In a presentation by Restructuring and Insolvency lawyers at K&L Gates, they cover aspects of insolvency that are unique to food production and agriculture.
Brandy Sargent, Partner, K&L Gates
Margaret Westbrook, Partner, K&L Gates
This webinar was offered only to AALA members for continuing legal education credit.
Please be sure to note the following: CLE credit cannot be offered to those who only watch the recorded version after the webinar.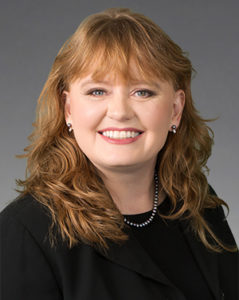 Brandy Sargent represents debtors, lenders, vendors, purchasers, and official and unofficial committees in a variety of commercial and agricultural bankruptcy, workout, and litigation matters. Brandy has significant experience representing vendors, customers, and other contract counterparties in complex payment, performance, and contract compliance issues arising in bankruptcy and insolvency matters. She regularly advises clients regarding supply chain disruptions arising in bankruptcy and insolvency cases. In addition, she has specific experience advising clients regarding consignment agreements, purchase money security interests, and warehouse and transportation liens. In agribusiness insolvency matters, Brandy assists clients with unique issues arising under the Perishable Agricultural Commodities Act (PACA), Food Security Act (FSA), state agricultural lien statutes, and cooperative member and marketing agreements.
Margaret Westbrook is a partner in the Raleigh K&L Gates office and has two distinct areas of practice: restructuring and insolvency and campaign finance. Currently serving as the U.S. practice group coordinator for the restructuring and insolvency practice group within the firm, she represents and litigates for secured and unsecured creditors in restructuring and insolvency matters both in and out of the state and federal courts in North Carolina, and in other jurisdictions, including New York, Delaware, Texas and Virginia. Margaret advises transactional clients with respect to insolvency risks and debt restructuring. She represents purchasers and sellers of debt and assets from financially distressed companies in a variety of structures, including foreclosure sales, Article 9 sales and Chapter 11 Section 363 sales. She has extensive experience with agricultural cases, including Chapter 12 proceedings, and with healthcare insolvency issues both in and outside of formal insolvency proceedings. Margaret is a member of Class 32 Fellows of the American College of Bankruptcy.Margaret also advises corporations and trade associations on matters relating to the regulation of corporate political activity, including the formation and administration of state and federal political action committees, campaign finance regulations and gift laws. She formerly represented clients in the North Carolina General Assembly and currently advises clients regarding the development of political compliance programs.
 . 
Tuesday, August 30, 2022, at 12:00–1:30 PM (CT)
Legal Issues for Indoor Agriculture
Consumer demand for local food and food traceability has created market value for vertical, indoor, and other controlled environmental agriculture (CEA) systems in recent years, while innovations in LED lighting technology, artificial intelligence, robotics, and other innovations have spurred investment and significant growth. CEA companies face a host of unique legal issues and others that are common to traditional producers of agricultural products. This panel legal of experts will discuss working with agricultural technology companies, issues unique to CEA companies, issues they share with conventional agriculture, and opportunities for innovation in agriculture as the Farm Bill approaches.
Speakers:
Karen Ellis Carr, ArentFox Schiff
Marni Karlin, Karlin Strategic Consulting LLC
Chris Livingston, General Counsel & Corporate Secretary for Bowery Farming
Kei Nishimura, Associate General Counsel, Plenty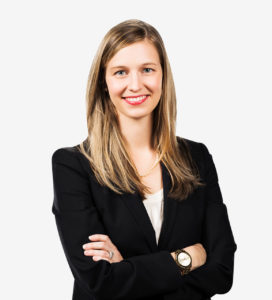 Karen Carr counsels, advocates, and litigates on behalf of food and agriculture companies and industry groups, with a focus on agricultural technology, food, biotechnology, pesticides and other chemical substances, and environmental law. Karen co-leads ArentFox Schiff's AgTech industry group.
Karen has experience in litigation and regulatory counseling, strategy, and advocacy, with a primary focus on products regulated by the United States Department of Agriculture (USDA), Environmental Protection Agency (EPA), and Food and Drug Administration (FDA). Karen advises on pathways to commercialization for new products and technologies, advertising and labeling, testing and reporting, data use and compensation disputes, and litigation relating to product approvals. Karen has specific expertise with the Plant Protection Act, the National Bioengineered Food Disclosure Standard, the National Organic Program, the Federal Insecticide, Fungicide, and Rodenticide Act (FIFRA), the Toxic Substances Control Act (TSCA), the National Environmental Policy Act (NEPA), the Endangered Species Act (ESA), the Federal Food, Drug, and Cosmetic Act (FFDCA), and the Administrative Procedure Act.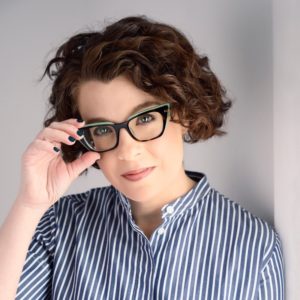 Marni Karlin is a recognized leader and subject matter expert passionate about creating a healthier and more sustainable food system, using advocacy, strategic planning, law, policy, and communications tools. She has over twenty years of experience in food; sustainable, organic, and controlled environment agriculture; organization management; policy; advocacy; law; and legislative and administrative process.
Her past roles include food and agriculture industry trade association general counsel and vice president of government affairs, legal policy advisor, legislative director, corporate attorney, and trained chef. She has an extensive background in project development; management of staff and boards; strategic thinking; building and leading coalitions; advocating and shaping the debate; political and corporate strategy; financial management and development; organic food and agriculture; and written and oral communication.
 . 
Thursday, August 4, 2022, at 11:00 AM – 12:30 PM (CT)
National Bioengineered Food Disclosure Standard – Six Month Check-In
The National Bioengineered Food Disclosure Standard (NBFDS) was implemented on January 1, 2022. This session will provide a refresher on the NBFDS and explore the current regulatory and litigation landscape surrounding the implementation of the NBFDS, including a discussion of the ongoing lawsuit challenging the NBFDS under the Administrative Procedure Act (APA).
Samuel Jockel, Senior Associate, Alston & Bird
Rachel Lowe, Partner, Alston & Bird
Brandon Neuschafer, Partner, Bryan Cave Leighton Paisner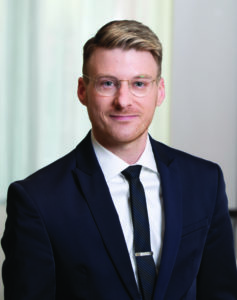 Sam Jockel is a senior associate in the Washington, D.C. office focusing his practice on regulatory, policy, and litigation matters involving the FDA, the USDA, and the FTC related to food, beverages, cosmetics, dietary supplements, and drugs. Sam assists clients on premarket clearance, import and export issues, supply chain management, and product labeling and advertising. He helps clients navigate product recalls and respond to regulatory enforcement actions and defends clients in consumer class actions. Sam has completed training to be a Preventive Controls Qualified Individual (PCQI) for human food.
Sam previously served as a trial attorney in the USDA's Office of the General Counsel. At the USDA, he was counsel for the implementation of the National Bioengineered (BE) Food Disclosure Standard and also represented the Agricultural Marketing Service, the Food Safety and Inspection Service, and the Animal and Plant Health Inspection Service in administrative enforcement proceedings under the Animal Welfare Act, the Packers and Stockyards Act, and the Humane Methods of Slaughter Act. Sam began his legal career as an Oak Ridge Institute for Science and Education Fellow at the FDA, where he worked on medical and food product safety and regulatory harmonization initiatives.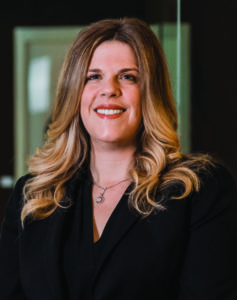 Rachel Lowe is a litigator who represents clients in a variety of industries, including the food and beverage and retail industries, in class actions and other complex commercial disputes. She is a member of Alston & Bird's Chambers-rated Food, Beverage & Agribusiness Team and works hand-in-hand with regulatory counsel to advise industry-leading food producers, distributors, and retailers facing litigation and investigations. Rachel is also a member of the firm's Privacy, Cyber & Data Strategy Team and counsels and defends companies facing California Consumer Privacy Act (CCPA) and other privacy-related claims. Rachel also has experience representing clients in product litigation, trademark, and employment matters.
In 2021, Rachel was recognized as one of the "Most Influential Women Lawyers" in Los Angeles by the Los Angeles Business Journal. She was also honored by JD Supra with a 2021 "Readers' Choice Award" for her insights and commentary on legal issues. Rachel was named a "Rising Star" by Southern California Super Lawyers magazine from 2013-2016.
During law school, she served as a judicial extern to the Honorable Stephen Reinhardt of the U.S. Court of Appeals for the Ninth Circuit. Rachel's pro bono work includes volunteering with the Inner City Law Center and National Lawyers Guild.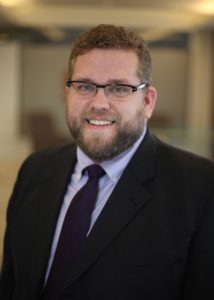 Brandon Neuschafer has done significant work relating to agriculture, food and biotechnology issues. He advises clients at all levels of food production and manufacturing, from agricultural operations to restaurants, and has experience working with regulatory agencies such as FDA and USDA. His work includes counseling clients on issues impacting ingredients, packaging, storage, facility registration, labeling, advertising, adulteration and recall. He has also assisted companies with respect to facility registrations and preparing for and responding to government inquiries and inspections. Examples of recent efforts include working with clients to understand, interpret and incorporate into their operations FDA rules designed to implement the Food Safety Modernization Act and rules regarding menu labeling, and advising clients with respect to food labeling and advertising issues such as the use of "natural" and similar claims and compliance with California's Prop 65 requirements.
Mr. Neuschafer also regularly advises pesticide, fertilizer and agricultural chemical manufacturers and marketers on regulatory compliance and transactional issues, and has advised foreign governments on domestic and foreign agricultural issues impacting free trade agreement negotiations with the United States. He blogs about food and beverage law and policy issues at Digest, BCLP's Food and Beverage Law Blog found at https://bclpdigest.com
 . 
Farmland & Succession – Challenges & Solutions for Black Farmers
This webinar features two speakers with the Land Loss Prevention Project, Mary Henderson, and Christina Rice. The speakers will explore the historical context of land loss by black farmers, the particular vulnerabilities of black-owned land, and policy and legislative efforts at the state and federal levels.
Mary Henderson, Senior Staff Attorney, Land Loss Prevention Project
Christina Rice, Senior Staff Attorney, Land Loss Prevention Project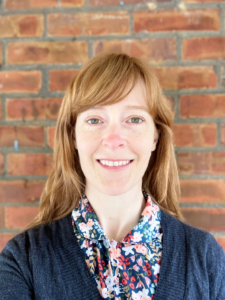 Mary Henderson is a Senior Staff Attorney with the Land Loss Prevention Project (LLPP) in Durham, North Carolina, where since 2006 she has assisted low-resource homeowners, landowners, and farmers to retain and utilize their real property. She earned her B.A. from Brigham Young University in 1998 and her J.D. from the University of California, Los Angeles in 2004 where she was editor-in-chief of the UCLA Journal of Environmental Law and Policy. She is a member of the state bars of California and North Carolina. Ms. Henderson works across LLPP's practice areas on matters involving heir property stabilization, consumer protection, Chapter 12 and 13 bankruptcy, farm business and succession planning, and various aspects of environmental and real property law.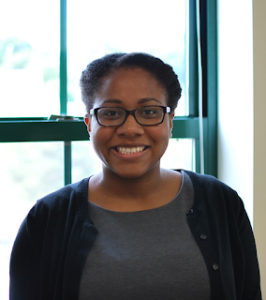 Christina Rice is a Senior Staff Attorney at the Land Loss Prevention Project (LLPP), where she provides free legal assistance to financially distressed and limited resource farmers, homeowners, and landowners throughout North Carolina. Ms. Rice works across LLPP's practice areas on matters involving heir property, foreclosure prevention, estate and farm succession planning, business entity formation, community economic development, Chapter 12 and 13 bankruptcy, and various aspects of real property law. She earned her J.D., with honors from Charlotte School of Law, her Bachelor of Science degrees with honors from the University of North Carolina at Charlotte, and her LL.M. in Agricultural and Food Law from the University of Arkansas School of Law. She is admitted to practice law in North Carolina.
 . 
Industry Spotlight: Perspectives From the Hemp Industry
This webinar features three leaders in the hemp industry. The speakers will provide their perspectives on the key issues facing the hemp industry, including specific insight into emerging policy topics, legal and regulatory challenges, and global trade implications. Additionally, the speakers will highlight the key subject matter areas that companies in the hemp industry are dealing with that demand the attention of outside counsel.
Speakers:
Justin Swanson, President of the Midwest Hemp Council
Graham Owens, President of Delta Agriculture
David Ladd, President of the Minnesota Industrial Hemp Association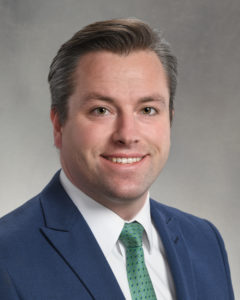 Justin Swanson is a partner at Bose McKinney & Evans, where he chairs the Cannabis Practice Group, and a principal at Bose Public Affairs Group. He is also co-founder and president of the Midwest Hemp Council – the leading trade organization for the hemp industry in the Midwest – working to build a supply chain and support the whole-hemp-plant economy.
Swanson is regarded as one of the country's leading hemp lobbyists and hemp lawyers. He successfully led lobbying efforts to ensure the state would be the primary regulator of hemp production in Indiana after the passage of the 2018 Farm Bill. Swanson also led a legal team that successfully challenged a state law that criminalized part of the hemp plant, which was the first of its kind legal question.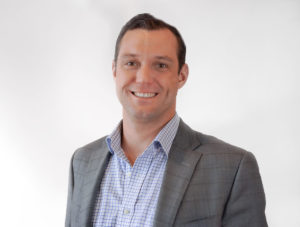 Graham Owens serves as President of Delta Agriculture and is responsible for business development and managing regulatory affairs and also serves as the Co-Chair of the National Industrial Hemp Council's Government Affairs Committee. Prior to Delta Ag, Graham was Director of Regulatory, Tax, and Domestic Economic Policy for the National Association of Manufacturers, the largest manufacturing industrial trade association in the United States, where helped lead the NAM's advocacy before Congress and the executive branch on smarter regulations and common-sense legal reform that fit the modern manufacturing workforce.
Prior to his work at NAM, Mr. Owens served as a Legal Fellow for the think tank TechFreedom where he conducted legal research and writing on a variety of tech and telecom-focused regulatory issues, including consumer protection, antitrust, privacy & data security, and broadband deployment. Prior to that role, he served as a Professional Staff Member for the House Judiciary Committee and as a law clerk for the Federal Trade Commission and House Oversight Committee.
Mr. Owens is a recognized expert on good regulatory practices in and outside of hemp and has advised Congress and multiple regulatory agencies, including coauthoring testimony before the Senate Commerce Committee on FTC reform and serving as a member of the FCC's Broadband Deployment Advisory Committee, on how to improve their regulatory and adjudicatory processes. He speaks frequently on emerging issues in consumer protection law, administrative law, and regulatory reform.
Graham received a bachelor's degree from the University of Virginia, a law degree from George Washington University Law School, and is an active member of the District of Columbia Bar.
Dave Ladd currently serves as President of the Minnesota Industrial Hemp Association, a broad coalition of businesses and individuals who advocate for the re-emerging industrial hemp sector from field to consumer.
As a non-partisan voice in Washington, D.C. and St. Paul, MN the Minnesota Industrial Hemp Association is constantly monitoring public policy developments at the federal, state, and local levels of government regarding the legal industrial hemp industry to ensure the association's members have a seat at the table.
Mr. Ladd has a broad range of contacts at the federal, regional and state levels. He has developed relationships with key leaders in production agriculture, the renewable energy sector, agribusiness, financial institutions, state and federal government and Capitol Hill. In addition, he is often looked to for his expertise regarding the current policy and political environments and has served as a consultant to numerous state and federal candidates.
 . 
International Trade Implications for Agriculture in Light of Ukraine
In this one-hour webinar, our speakers will share industry leader perspectives on potential international trade implications for the global and U.S. agricultural sectors rising from the recent unrest in Ukraine, including possible supply chain, global import, and global export impacts.
Speakers:
Corey Rosenbusch, President and CEO of The Fertilizer Institute
William H. Meyers, Professor Emeritus of Agricultural and Applied Economics at University of Missouri
Mariia Bogonos, Head of the Center for Food and Land Use Research, Kyiv School of Economics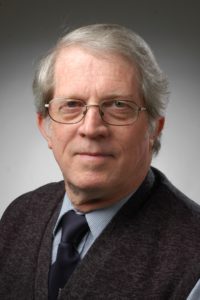 William H. Meyers is Professor Emeritus of Agricultural and Applied Economics at University of Missouri and has worked on Ukraine projects and issues since 1991 with projects of Iowa State University, World Bank, FAO, USAID, USDA, Leibniz Institute of Agricultural Development in Transition Economies (IAMO) and University of Missouri. He has also hosted and advised numerous graduate students and faculties from Ukraine universities at MU and visited them at their universities. These efforts have produced numerous publications and reports on Ukraine agriculture and rural development.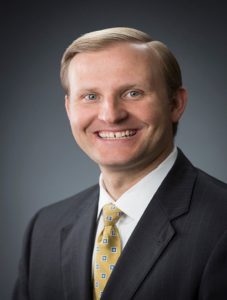 Corey Rosenbusch officially joined TFI as its President and CEO in February 2020. He previously served as President and CEO for the Global Cold Chain Alliance (GCCA).
Before joining GCCA, Rosenbusch lived in Indonesia implementing a United States Department of Agriculture (USDA) funded development project for The Borlaug Institute. Rosenbusch served as the National FFA President, representing the organization at state conventions and agriculture industry events.
Rosenbusch holds a degree in International Development from Harvard University and a Bachelor of Science degree in Agricultural Education from Texas A&M University. He serves as Chair of the Small Business Legislative Council and past chair of the National FFA Foundation's Individual Giving Council.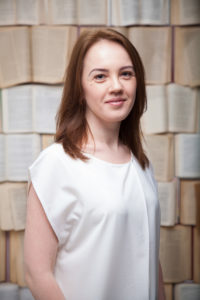 Mariia Bogonos joined the Center for Food and Land Use Research of Kyiv School of Economics in March 2022. She specializes in agricultural and trade policy, impact analysis, agricultural markets projections and modeling, and economics of organic and nature-oriented agriculture.
In 2018-2021 she worked as a project officer at the Economics of Agriculture unit of the Joint Research Centre of the European Commission (DG JRC). There she mainly engaged in modelling and analysis of CAP and international trade.
Since 2016, as a long-term expert at the German-Ukrainian agricultural policy dialogue in Kyiv (APD Ukraine), she led the popularization of the use of policy modelling instruments in Ukraine. Mariia received her PhD and M.Sc. in Agricultural Economics from the University of Hohenheim (Germany,) and B.Sc. in Economic Cybernetics from Kyiv National Taras Shevchenko University (Ukraine).
 . 
Tuesday, December 14, 2021, at 12:00 PM – 1:00 PM (CST)
Attorney Wellness: Our Mental Health
In this one-hour webinar, Tyler Coe will give a presentation focusing on mental health.
The program will review the model rules of professional conduct and how those rules align with our mental and physical health. The program will look at rules attorneys should think of daily in every transaction, the mental and physical health of the populace, and offer solutions on how attorneys are better able to practice law with keeping the rules and their health in mind.
This webinar will be offered to AALA members only for continuing legal education credit. If you are not currently an AALA member but want access to this webinar, you can become a member here.
 . 
Thursday, October 21, 2021, at 12:00 PM – 1:30 PM (CDT)
Pesticides 101: Understanding the Pesticide Regulatory Process
This webinar will focus on the underlying legislation that impacts and regulates pesticides in the United States – the Federal Insecticide, Fungicide and Rodenticide Act (FIFRA), the Federal Food, Drug, and Cosmetic Act (FFDCA), and the Pesticide Registration Improvement Act (PRIA), providing a review of pesticide and food residue regulations and some key litigation in that area.
This webinar includes the following speakers:
Amy Symonds, Counsel at Crowell & Moring LLP;
Katie Heilman, Partner at Arent Fox; and
Laurie-Ann Flanagan, Executive Vice President at DC Legislative and Regulatory Services (DCLRS).
Amy Symonds is a counsel at Crowell & Moring LLP. Her practice primarily focuses on assisting clients with pesticide and chemical regulation and litigation matters. In her pesticide practice, Amy has assisted companies of all sizes by explaining complex state and federal pesticide regulatory requirements. She has conducted audits for her clients to determine and perfect compliance with the Federal Insecticide, Fungicide, and Rodenticide Act (FIFRA). Amy has defended numerous pesticide companies in enforcement actions brought by the Environmental Protection Agency (EPA). She has represented both data submitters and follow-on registrants in arbitrations regarding data compensation claims involving pesticide data submissions under FIFRA. Amy also represents pesticide companies in defending their registrations when challenged by competitors or non-governmental organizations.
Katie Heilman is a Partner in Arent Fox's Complex Litigation and Agricultural Technology groups representing agriculture-industry clients in litigation and regulatory matters. Katie assists clients in defense of regulatory approvals of crop protection products and products of biotechnology through counseling, agency submissions, and litigation. Her recent work includes representing regulated entities and trade associations in litigation arising under the Federal Insecticide, Fungicide, and Rodenticide Act, the Federal Food, Drug, and Cosmetic Act, and the Endangered Species Act. Katie was recognized in the 2021 and 2022 editions of Best Lawyers: Ones to Watch.
Laurie-Ann Flanagan is Executive Vice President at DCLRS with over 20 years of experience in the federal legislative and regulatory process. She is a trusted advisor and strategist at DCLRS with expertise in a variety of issues including energy, labor and immigration, pesticides and fertilizers, small business, and water policy. In addition to lobbying government officials, Laurie assists clients with strategic government relations planning. She advises clients on upcoming regulatory and legislative initiatives that could impact their businesses and helps them understand the steps needed to ensure successful advocacy efforts.
Prior to DCLRS, Laurie worked for Stateside Associates, Inc., a state government consulting firm. She previously worked for Senator John Seymour (R-CA) researching environmental and energy legislation and served as legislative aide for New York Assemblyman Robert Gaffney (R). She has also worked for several national and local political campaigns. Laurie is active in Women in Government Relations (WGR) and served on the organization's board for six years, including as treasurer from 2010-2012. In addition, Laurie is the president of a northern Virginia-based children's charity, Kids Sending Smiles.
Laurie earned her masters of business administration from The George Washington University in 2001. She graduated from the Catholic University of America magna cum laude, Phi Beta Kappa with both bachelors and masters degrees in international politics in 1994.
 . 
Property Rights in Agriculture: Examining Cedar Point Nursery and Ag-Gag Developments
In this one-hour webinar, Joshua Thompson and Jonathan Wood will give a jam-packed presentation focusing on property rights in agriculture in two parts: 1. This week's Cedar Point Nursery decision from SCOTUS; and 2. Recent ag-gag law case developments at the circuit level.
Private property rights in agriculture are increasingly the subject of constitutional scrutiny in the federal court system. The Supreme Court's June decision in Cedar Point Nursery v. Hassid scored an important victory for landowners relative to the takings clause of the 5th Amendment. Additionally, state ag-gag laws have found a home in various district courts and circuit courts across the country, with the First Amendment a frequent part of opinions.
This AALA webinar will explore both topics, the scope of recent decisions, and the impact for practitioners and landowners. This webinar will be offered to AALA members for continuing legal education credit.
Please be sure to note the following:
1. This webinar is offered to current AALA members only as a part of the member benefits.
2. This program is being offered for CLE credit in each jurisdiction.
3. The CLE reporting will not occur until after the program.
4. Pre-registration and active participation during the program is required in order to receive credit.
5. AALA is seeking CLE approval from the most stringent state before the program and that approval for all other states will be sought afterwards. AALA will do its best to seek CLE credit for all members who attend, but it is possible that some states may not approve the webinar.
6. CLE credit will not be offered to those who only watch the recorded version (those who did not register ahead of time and watch the webinar live) provided after the webinar on the member portal.
Jonathan Wood is vice president of law and policy at the Property and Environment Research Center (PERC). An attorney, Jonathan has litigated environmental and property-rights cases in the Supreme Court of the United States, federal and state appellate courts, and trial courts across the country. His writing has appeared in the Wall Street Journal, Washington Post, National Review, Reason, and other outlets. And his research has been published in journals such as Environmental Law Reporter, Yale Journal on Regulation Notice & Comment, Pace Environmental Law Review, and California Western Law Review.
Prior to coming to PERC, Jonathan was a senior attorney at Pacific Legal Foundation, where he litigated cases concerning the Endangered Species Act, Clean Water Act, and other federal environmental laws. He was co-counsel for forest landowners in Weyerhaeuser Co. v. U.S. Fish and Wildlife Service, in which the Supreme Court ruled unanimously that private land could not be arbitrarily regulated as critical habitat under the ESA. He also led a successful effort to reform regulation of threatened species to better align the incentives of private landowners with the interests of rare species.
Jonathan has testified before several congressional committees on wildlife conservation and endangered species topics. He has also appeared on national television and radio, including NPR's All Things Considered, C-Span's Washington Journal, Stossel, Fox News, and Hill.TV. 
Jonathan has a law degree from the New York University School of Law, a masters degree in economic policy from the London School of Economics, and a bachelor's degree in economics from the University of Texas. He is on the executive committee for the Federalist Society's Environmental Law and Property Rights Practice Group and a steering committee member for the Environmental Law Institute's Emerging Leaders Initiative.
Joshua Thompson is Pacific Legal Foundation's Director of Legal Operations. His practice has covered all of PLF's practice areas with a particular focus on equality before the law.
Joshua joined PLF as an attorney in 2007 after graduating cum laude from Michigan State College of Law. In law school, he was an assistant editor of the Michigan State Law Review and a member of the Trial Practice Institute. During law school Joshua clerked at the Federalist Society, the National Association of Criminal Defense Lawyers, and the Wisconsin Public Defender. He was a Charles Koch Summer Fellow in 2005.
Joshua's belief in liberty began while working in his father's restaurant. It was furthered during his time at the University of Wisconsin-Madison, where he graduated with distinction with a triple major in political science, German, and international relations. Ultimately, his desire to work for a freer society was crystallized during a Fulbright year in Germany, where he read and studied as much libertarian and free market texts as he could find.
Joshua married a PLF attorney in 2013. They have two young children. In his sparse free time he plays chess (competently), guitar (poorly), and follows Wisconsin sports teams (depressingly).
 . 
Livestock Laws & Current Events
Speakers will share insights on common livestock law and economic issues, ranging from CAFOs to fence laws to transactional issues to live cattle marketing. This webinar will also touch on current events and issues facing the livestock industry today, especially coming out of COVID-19 related supply chain issues and looking to a September deadline for Livestock Mandatory Reporting reauthorization.
Speakers:
Chelsea Good, Vice President of Government and Industry Affairs at the Livestock Marketing Association, moderator
Aaron Popelksa, Vice President of Legal and Governmental Affairs at the Kansas Livestock Association
Michael Nepveaux, Economist, American Farm Bureau Federation
Chelsea Good
Vice President of Government and Industry Affairs
Livestock Marketing Association
Chelsea is a graduate of Washburn University School of Law. She also has bachelor's degrees in agricultural communications and journalism, political science, and public relations and a master's degree in communications studies, all from Kansas State University. Prior to joining LMA, Chelsea worked at the Kansas Department of Agriculture, first as the Communications Director and then as a Staff Attorney specializing in animal health law and policy. A Parker, Colorado native, Chelsea comes from a beef industry background and is passionate about agriculture. In her free time, Chelsea enjoys live music, K-State sports, and spending time with friends and family.
Aaron Popelka
Vice President of Legal and Government Affairs
Kansas Livestock Association (KLA)
Aaron Popelka serves as Vice President of Legal and Government Affairs for the Kansas Livestock Association (KLA).  Popelka represents beef, dairy, and other livestock producers' policy priorities at the state and federal levels of government.  He also consults with KLA members on legal and regulatory matters. Prior to joining KLA in January 2012, Popelka was Chief Counsel in Senator Jerry Moran's Washington, D.C., office.  He joined Moran's congressional office in February 2006, advised on agriculture, energy, environment, trade, and water policy issues, and counseled Moran on other general legal and regulatory matters. A native of Munden, Kansas, Popelka grew up the oldest of four brothers on his family's diversified crop and livestock farm.  He operates his own farm, with the help of his father and brother, raising corn, soybeans, wheat, and hay, as well as operating a commercial cow/calf herd.
Michael Nepveux
Economist
American Farm Bureau Federation
Michael Nepveux serves as an Economist at the American Farm Bureau Federation. His issue portfolio consists of livestock and dairy markets, farm bill and federal crop insurance, renewable fuels, biotechnology, agricultural data issues, and endangered species issues.AFBF is the nation's largest organization representing farmers and ranchers. AFBF is the unified national voice of agriculture, working through our grassroots organizations to enhance and strengthen the lives of rural Americans and to build strong, prosperous agricultural communities.Nepveux joined the American Farm Bureau Federation as an economist in May of 2018. He comes to AFBF from Informa Economics' Agribusiness Consulting Group, where he was a consultant charged with conducting market, policy, and economic research and analysis in several fields including agriculture, agricultural risk management, transportation and renewable energy. His prior experience also includes internships and placements with the Agriculture Department's Foreign Agricultural Service and the House Agriculture Committee.Nepveux earned a bachelor's degree in agribusiness and economics and a master's degree in agricultural economics, both from Texas A&M University.