2020 Annual Educational Symposium
AALA will host its 41st Annual Agricultural Law Educational Symposium on November 12-14 2020, in Kansas City, MO.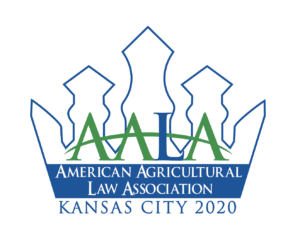 Attendees may earn between 4-5 CLE credits for Thursday and 12 -14 credits of CLE (including up to 3 ethics hours) for Friday-Saturday. Our two-day symposium is headquartered at the Kansas City Marriott Downtown.  There are keynote sessions and concurrent sessions over the course of Friday and Saturday. Concurrent sessions are organized by five tracks: food law; in-house/corporate counsel; new practitioner; policy; and private practitioner.
Our popular "Ag Law Updates" are once again offered, with 3 updates on Friday and 3 updates on Saturday morning.
The symposium also includes AALA's 41st Awards Luncheon that you will not want to miss!
Thank you to our generous sponsors, which provide invaluable support to the AALA as we offer our 41st annual educational symposium.
We look forward to seeing you in Kansas City, MO.  For more information please call AALA at 785-233-4512 or email us at info@aglaw-assn.org
AALA wants to hear from potential speakers for the 41st Annual Symposium this November in Kansas City, MOPlanning for the 2020 AALA Annual Symposium is underway, and we are excited about the opportunities ahead as plans are made and programs suggested.  For those thinking about submitting ideas for sessions in Kansas City, the Request for Proposals (RFP) form is available  here.  If you have any questions please email Pat Dillon patdillon@dillonlawpc.com.
For additional help or assistance, please contact info@aglaw-assn.org