AALA Member in the News: Brian C. Buescher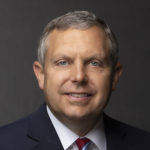 President Donald Trump nominated AALA Member Brian C. Buescher
of Omaha, Nebraska to serve on the U.S. District Court for the District of Nebraska last month. Nebraska Senators Deb Fischer (R-Neb.) and Ben Sasse (R-Neb.) recommended Mr. Buescher to the President for this judgeship.  Buescher has been a member of the AALA since 2007 and received the AALA 2017 Excellence in Agricultural Law Award for his work in private practice.
"Brian Buescher has had a successful legal career. His background, experience, and judicial philosophy are the reasons I recommended him to President Trump for this judgeship. I look forward to a fair and swift Senate confirmation process so that Mr. Buescher can soon serve on the Nebraska federal bench," said Senator Fischer.
"Nebraska's commitment to the rule of law and the Constitution are hallmarks of our state. Brian Buescher is a proud Nebraskan and will serve our state well in his new calling," said Senator Sasse.
Now that the President has announced Buescher's nomination, the Senate confirmation process begins. A confirmation hearing will take place before the Senate Judiciary Committee, and once that hearing has concluded, the committee will vote on the nomination. If the nomination clears the committee, it will then head to the full Senate for a vote.
Buescher is a partner at Kutak Rock LLP in Omaha, Nebraska, where he leads the firm's agribusiness litigation team. He also practices in the areas of environmental, food law, real estate, product liability, and banking. Buescher has been a frequent speaker at AALA's annual agricultural law educational symposia and chaired the AALA Awards Committee from 2014 – 2016.
Buescher graduated from the University of Nebraska Lincoln with a B.A. in Political Science and Economics. He received his J.D. from Georgetown University Law Center and served as Editor in Chief for the Georgetown Journal of Legal Ethics.