2016 AALA Award Recipients
Grahn Honored with The

AALA

 Distinguished Service Award
David Grahn was honored with the AALA Distinguished Service Award, which is given annually to an AALA member for contributions to the organization and to agricultural law. The award recipient, chosen by the three most recent award winners, is selected based upon consistent demonstration of dedication to furthering the development of agricultural law, strengthening the legal profession, increasing the size and influence of AALA, and fulfilling the law-related information needs of lawyers and citizens alike.
Grahn serves as the Associate General Counsel for International Affairs, Food Assistance, and Farm and Rural Programs in the Office of the General Counsel of the USDA. In 2011, he was awarded the Meritorious Presidential Rank Award for his service to the U.S. Government. He is a prior recipient of the AALA Excellence in Agriculture Award. Grahn is a long time presenter at the AALA Annual Educational Symposium and has dedicated a considerable amount of his time to the AALA. Graduate of the University of Minnesota Law School and Carleton College.
Kirk Hall, LeBas and Traxinger Receive Excellence in Agricultural Law Awards
The purpose of the AALA's Excellence in Agricultural Law Award is to recognize AALAmembers for outstanding contributions to the legal profession and the agricultural community.  These awards may acknowledge members from professional sectors, including private practice, academia, government and non-governmental organizations (NGOs) .  This year, AALA honored David LeBas for his contributions as a private practitioner, Peggy Kirk-Hall for his academic work and Mike Traxinger for his non-governmental organization dedication.

David LeBas graduated from the University of Texas with a B.A. in 1979 and a J.D. in 1982. He is Board Certified in Civil Trial Law. His practice is concentrated in the areas of agriculture, construction and banking. He is a past president of the Amarillo Area Young Lawyers Association, a past director of the Texas Young Lawyers Association (Director 1988-1990), a Life Fellow of the Texas Bar Foundation, former chair of the State Bar's Agricultural Law Committee, and a member of the Construction Specifications Institute.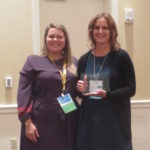 Peggy Kirk Hall is an Assistant Professor and Field Specialist in Agricultural and Resource Law at The Ohio State University.  She directs OSU Extension's Agricultural & Resource Law Program and conducts research and outreach on legal issues affecting agriculture, rural land use and resource development.  She is a partner in the national Agricultural & Food Law Consortium, a multi-institutional agricultural law research initiative directed by the National Agricultural Law Center.  Hall also teaches Agribusiness Law in the College of Food, Agricultural & Environmental Sciences at OSU.  She has served as President of the American Agricultural Law Association, Chair of the Ohio State Bar Association Agricultural Law Committee and on the Advisory Board for the National Agricultural Law Center.  Hall holds B.S. and M.S. degrees from The Ohio State University in Resource Policy and earned her Juris Doctorate from the University of Wyoming College of Law, where she was a member of the Land and Water Law Review.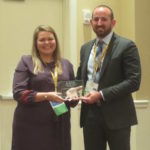 Mike Traxinger is native of Claremont, South Dakota and a fifth-generation South Dakota farmer. He received a J.D. from Drake University Law School with a focus in agricultural law and a B.A. from the University of Minnesota-Twin Cities. He currently serves as the first in-house corporate attorney for South Dakota Wheat Growers Association, one of the top 20 largest agricultural cooperatives in the United States. In addition to his role at South Dakota Wheat Growers Association, Traxinger maintains a small herd of cattle on his family's farm operation, Traxinger Simmental, located near Houghton, South Dakota. He has a passion for the family farm and for the past two years has organized the Brown County Farmers Union and Farm Safety Camp where local youth learn about the importance of the cooperative model and how to practice safety on the farm.
Professor Stephanie Tai Receives Professional Scholarship Award and Neal Rasmussen Receive Student Scholarship Awards and
AALA presents Scholarship Awards that recognize and encourage scholarly work in agricultural law.  In selecting student and professional winners, the AALA Awards Committee considers criteria including the excellence in quality of writing, the relevance to important legal issues in agriculture, broadly defined, the clarity of analysis, the potential impact, and other attributes of scholarship.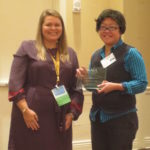 This year, the Professional Scholarship Award was presented to Stephanie Tai of Madison, Wisconsin for her publication, Whole Foods: The FSMA and the Challenges of  Defragmenting Food Safety Regulation, 41 AMERICAN JOURNAL of LAW & MEDICINE, 447-458 (2015). The article discusses the fact that 19 Federal Agencies are charged with food regulation and it proposes a process by which Food Safety regulation might be more efficiently handled by the Federal Government.
Stephanie Tai is an associate professor of law at the University of Wisconsin Law School. She focuses her scholarly research on the interactions between environmental and health sciences and administrative law. She was an adjunct law professor at Georgetown from 2002-2005 and a visiting professor at Washington and Lee University School of Law during the 2005-06 academic year. Her teaching interests include administrative law, environmental law, food systems law, environmental justice, risk regulation, contracts, and comparative Asian environmental law. She spends her leisure time lifting weights, boxing, reading fiction, listening to terrible pop punk, scouring farmers' markets, and annoying her pet iguana.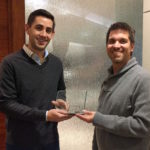 The Student Scholarship Award for 2016 was presented to Neal Rasmussen, LW'16 University of Minnesota Law School, in recognition of his publication, From Precision Agriculture to Market Manipulation: A New Frontier in the Legal Community , 17   Minnesota Journal of Law Science & Technology,  489 (2016).
Neal Rasmussen graduated from Kansas State University in 2012 with a B.S. in Geography and is a 2016 graduate of the University of Minnesota Law School. During his time in law school he served as managing editor of the Minnesota Journal of Law, Science & Technology and as a student attorney in the University of Minnesota Law School Business Law Clinic. In addition to law school activities, Rasmussen worked in the legal department of Land O'Lakes, Inc. as a law clerk for two years. He recently began his "official" legal career at the law firm of Lindquist & Vennum LLP in Minneapolis, Minnesota where he is assisting companies that are acquiring, selling, reorganizing and merging their businesses and advising clients on day-to-day legal and business matters. When he is not working he enjoys keeping up with Kansas State football and being outdoors with his wife and dog.