Featured Member: Blair Dunn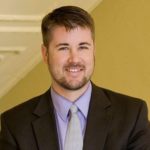 Employer: Partner at Western Agriculture, Resource and Business Advocates, LLP, Albuquerque, New Mexico
Education and Work Experience:
Bachelors of Science in Geology New Mexico State University
Juris Doctor from University of New Mexico
How did you get interested/involved in agriculture law?
I was raised on farms and ranches in Southeast New Mexico. I have known that I would be involved in advocating for Agriculture since the 4th Grade when I decided to become a lawyer initiating my first water rights lawsuit against my classmates. I understand that while people say that death and taxes are certain, so is the need for a good lawyer, and I firmly believe that in order for our Country to be successful, agriculture needs zealous advocacy.
What is your current role and what type of work are you doing for agriculture?
I am a founding partner in a law firm that is focused on federal advocacy for farmers and ranchers. We handle regulatory and litigation matters in water law, endangered species, equine law, veterinary malpractice, mining and civil rights.
What are some of the challenges and opportunities you see in your job and the ag law
profession?
As long as we continue to allow federal agencies to operate under a mandate of ever increasing control of land use and environmental regulations, there will be challenges for farmers and ranchers in the western United States. This offers an opportunity for advocacy to lawyers in ag law.
When did you join, why did you join the AALA and what keeps you active in the organization?
I joined the AALA because I believe relationships with practitioners in similar areas of the law are vital to having a successful and efficient practice. I remain active because I value these professional relationships and believe that, to get the most out of any organization, you must actively participate in the direction of the organization. That, and the fact that Jesse Richardson and Pat Dillon are just too cool NOT to hang out with!
AALA Involvement:
Elected as Director with term of October 2017 – September 2020
Past AALA Awards Committee Chairman and member
Local CoChair of AALA 2014 Symposium in Albuquerque