Featured Member: Erin Herbold-Swalwell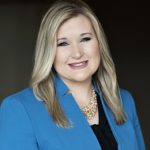 Employer:
Shareholder, Brick Gentry, P.C., West Des Moines, Iowa
Education and Work Experience:
Iowa State University Bachelor's Degree- 2003; University of Iowa College of Law J.D. 2006
2006-2007 Private Practice Ames, Iowa; 2007-2011 Staff Attorney at the Center for Agricultural Law and Taxation at Iowa State University; 2011-2015 Private Practice with Beving, Swanson, and Forrest, P.C. Des Moines Iowa; 2015-present Brick Gentry, P.C.
How did you get interested/involved in agriculture law?
Agriculture has always been an interest of mine. I grew up on a crop production/ livestock production farm near Mingo, Iowa. My parents are still actively farming and I continue to be involved in the farming operation. My interest in studying agricultural law began in high school where I participated in our local FFA chapter. After law school, I searched for opportunities to bring me closer to agriculture, and I found an opportunity to focus in ag law at Iowa State University. I guess I would say that agricultural has always been a big part of my life and my interest in the law followed that.
What is your current role and what type of work are you doing for agriculture?
I specialize in general ag law issues, including administrative law, business law, environmental law, real estate, and estate planning and probate.  My practice has also grown in the area of farm estate planning and business succession planning over the last several years. Growing up on a family farm, I can appreciate the complexity involved in developing a family succession plan and the unique dynamics, law, and circumstances farmers face.
What are some of the challenges and opportunities you see in your job and the ag law profession?
Obviously, the markets and general ag economy are in a down cycle, so that is presenting some interesting issues for some of our clients that we hope to help them work through. Another challenge is the uncertainty created by the current political climate with respect to the next Farm Bill, the Federal Estate and Gift tax, other general tax matters, and state legislative issues.
When did you join, why did you join the AALA and what keeps you active in the organization?
I joined the AALA the fall after I started work as Staff Attorney at the Center for Agricultural Law and Taxation at Iowa State University. The first conference I attended was in San Diego, CA in 2007. I have been a member of the organization since that time and look forward to the symposium every fall. I enjoy meeting and interacting with other ag attorneys and access to quality and specialized continuing legal education. I am currently serving as a member of the Distance Education Committee.
My law partner/mentor/friend, Eldon McAfee, a long-time member of the AALA, encouraged Julie Vyskocil, (my other law partner and friend) and I to actively participate in AALA and we have traveled to the conference every fall together for the past several years. It is a good time for us to re-focus on our respective practices and gain some valuable insight on issues other practitioners are facing. Eldon, Julie and I are sponsoring an ice cream social at the symposium this year, once again. We look forward to that every year and seeing old friends and meeting new ones.