AALA Member in the News: Jennifer Greenlief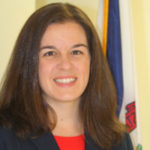 Jennifer Greenlief
West Virginia lawmakers pass first farm bill for the state
(this story was originally published here)
The West Virginia legislature passed the state's first-ever farm bill April 6. The bill, which will renew annually, sets the stage for easier updates and revisions to state code related to agriculture.
"Our goal is to work towards updating chapter 19 code to modernize rules and regulations and reduce burdens on West Virginia farmers. In addition, we want to further develop ways to grow our agricultural economy in West Virginia," said Kent Leonhardt, commissioner of agriculture, in an April 6 statement.
The West Virginia Department of Agriculture has worked towards a recurring farm bill for years. West Virginia has a part time legislature and only 60 days each year to get things done, said Jennifer Greenlief, assistant commissioner and general counsel for the department.
"Inevitably, there is a crunch when it comes to getting legislation across," Greenlief said.
It can be difficult to get work done on agricultural issues, especially less exciting issues like updating laws and making tweaks to code. So, the department wanted to put agricultural updates into one bill and present it as a package. The pandemic provided that opportunity. The 2021 bill updates multiple sections of code, and introduces an agriculture investment program.