AALA Member in the News: Kristi Boswell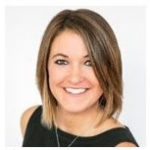 AALA Member Kristi Boswell has been appointed to serve as Senior Advisor to U.S. Secretary of Agriculture Sonny Perdue on workforce issues.  Prior to her recent appointment, Boswell served as American Farm Bureau director of congressional relations, where she also focused her work on farm labor.  Boswell spoke at the 2015 AALA Agricultural Law Educational Symposium in Charleston, South Carolina on immigration policy as it affects agriculture.
Boswell grew up on a farm in southeastern Nebraska where her family raised corn and soybeans. She holds a bachelor's degree in agricultural economics from the University of Nebraska-Lincoln and is a graduate of the University of Nebraska's College of Law. Boswell has been a member of the AALA since 2015 and is a former student of long-time AALA member and former AALA Board member Professor Anthony Schutz at University of Nebraska-Lincoln.
Immediately after law school, Boswell practiced corporate defense litigation at Stinson Morrison Hecker LLP and worked as a political aide for a Nebraska State Senator Pam Redfield. One of her first jobs was serving as the Ag Youth Coordinator for the Nebraska Department of Agriculture.