Featured Member: Amy Cornell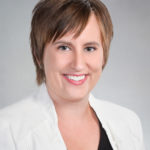 Employer: Bose Public Affairs Group/Bose McKinney & Evans
Education and Work Experience:
Vice President/Of Counsel        August 2017 – Present
President/Of Counsel         February 2017 – Present
Agribusiness Council of Indiana, Indianapolis, IN
Agricultural Law Program Director and Limited-Term Lecturer             August 2017 – Present
Indiana University McKinney School of Law & Purdue University College of Agriculture
EDUCATION
University of Arkansas School of Law
LL.M., Agricultural Law, 2007
Robert H. McKinney School of Law
Juris Doctor, cum laude, 2006
Purdue University, West Lafayette
Bachelor of Science with distinction, 2002
Click here for more of Amy's education and work experience
How did you get interested/involved in agriculture law?
My sister and I are the sixth generation to help run my family's farm in Indianola, Illinois. Growing up, I wasn't sure that I wanted to work in agriculture or help run the family farm. In college, I took a class that required you to interview someone, and I chose my dad. During the course of that interview, my desire to help farmers was cemented – and I dedicated my educational pursuits and career to doing just that.
As a farmer's daughter, I understand the needs of farmers and agribusiness leaders, and I am dedicated to helping other professionals understand, protect and develop the agriculture industry for current and future generations.
In each of my positions, I use my agriculture and regulatory background to guide clients through complex compliance and legal issues. I lobby on their behalf, working to promote legislation to bolster Indiana's agriculture industry.
What is your current role and what type of work are you doing for agriculture?
At Bose Public Affairs Group and Bose McKinney & Evans, I represent some of the large players in Indiana's agriculture industry as a lobbyist. Those clients include the Indiana Corn Growers Association, Indiana Pork Producers and Indiana Soybean Alliance.
I also serve as President of the Agribusiness Council of Indiana, a membership organization of approximately 150 grain, feed, fertilizer and crop protection chemical companies.
In addition, I am currently teaching an agricultural law class at Purdue University and serving as the Agricultural Law Program Director for Indiana University McKinney School of Law & Purdue College of Agriculture, where I lead a steering committee that will design the state's first agricultural law program. It is expected to launch for the 2020 school year.
What are some of the challenges and opportunities you see in your job and the ag law profession?
The biggest challenges that I tackle on a daily basis are time management and communication.  I have the privilege of serving a number of different organizations, but I couldn't do it without a team of talented professionals around me. And I truly mean around me, not under me.
Right now, I am thrilled to have the opportunity to get other women excited about careers in agriculture or agricultural law. I've spent the bulk of this year creating programming through ACI to help women in agriculture and agribusiness grow their networks and grow as professionals in an industry largely dominated by men. There are so many bright, young people climbing the ladder – I see them in my classes every semester – and I can't wait to see what they'll do once they enter the workforce!
When did you join, why did you join the AALA and what keeps you active in the organization?
I joined AALA in 2004 because I wanted to make sure that I was always in tune with the agricultural law issues affecting rural communities. I stay involved because I'm passionate about ensuring that the information provided by AALA is available to the farmers, agribusinesses and policy makers in Indiana. I also enjoy having a large network of other agriculture lawyers that I can ask questions and with whom I can brainstorm and share experiences.
I am glad to talk with AALA members further about my work and career.