Featured Member: Ashley Ellixson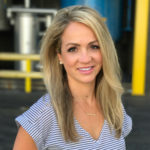 Employer: United Dairymen of Arizona
Education and Work Experience:
After completing a B.S. in Business Finance at Arizona State University, Ashley attended Texas Tech University School of Law where she received a J.D. with a certificate of Science, Engineering, and Technology Law before moving on to receive an LL.M. in Agricultural and Food Law from University of Arkansas School of Law. Before her current role as Executive Vice President of Legal and Risk Management at United Dairymen of Arizona (UDA), a dairy cooperative,  Ashley worked with the Department of Agricultural and Resource Economics at the University of Maryland as a Legal Extension Specialist where her research mainly looked into the Clean Water Act and the systems required by states for agricultural operations as well as farm data ownership, the Food Safety Modernization Act and privacy right issues among many other hot topics in ag law.
How did you get interested/involved in agriculture law?
I was born and raised on a dairy in Gilbert, AZ.  So, like many AALA members, agriculture is in my blood.  However, I took a longer route to realize that and had to get half-way through law school before realizing that ag law is where I wanted and needed to be.  That is when I discovered the LLM program at University of Arkansas and decided that is exactly what I wanted to do.
What is your current role and what type of work are you doing for agriculture?
I was recently promoted to Executive Vice President of Legal and Risk Management. I now oversee UDA's Human Resources and Safety Departments in my new role. In general, I work for the dairy cooperative in the state of Arizona that represents 85-90% of the fluid milk production in the state.  I wear several hats at UDA. I am responsible for government relations (I work closely with state and national lobbyists), all legal issues that may arise (may it be lease agreements, joint venture opportunities, food safety concerns-FSMA or milk supply contracts), as well as the coops sustainability efforts.
What are some of the challenges and opportunities you see in your job and the ag law profession?
Currently, the dairy industry is experiencing, similar to the rest of agriculture, an economic downturn and struggles due to a difficult domestic and global marketplace.  Trade plays a huge role for the dairy producers in Arizona so ensuring that our current trade partners remain viable and that new trade partners are created is a huge challenge and opportunity.  Also, labor. Labor is a major issue for our dairy producers.  Finding steady, reliable employees has been extremely difficult when a dairy farm operates 365 days a year 24 hours a day so finding a workable solution to the unique employment of dairy is a very important goal in my current role. Those issues are in addition to the severe issues producers are facing in light of COVID-19.  Fortunately, milk price futures are going in the right direction but after several years of terrible prices, we are hoping to keep our farmers in business through this downturn.
When did you join, why did you join the AALA and what keeps you active in the organization?
I joined AALA in 2011 while I was doing my LLM at University of Arkansas.  That year, the symposium was in Austin, TX.  I met people there that I now call friends and life long colleagues-I was hooked! I have continued my membership because I enjoy not only those friendships but the resources that AALA offers that have helped support my career as well as fulfilling those important and relevant CLEs.  I have volunteered on the Program Committee since I can remember and eventually started serving on the Membership Committee a few years ago. I really enjoy talking to new and potential members about how AALA has played such a huge role in where I am today and the value of the relationships I have made throughout the years.
I am glad to talk with AALA members further about my work and career.
Please log into the members-only website at: members.aglaw-assn.org to see my contact information.