Featured Member: Beth Rumley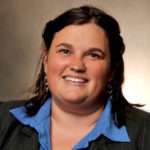 Work: Senior Staff Attorney, National Agriculture Law Center at the University of Arkansas Division of Agriculture
Education and Experience:  I graduated from Michigan State University with my undergraduate degree.  I attended law school at University of Toledo and earned an LLM, in Agricultural Law from the University of Arkansas.
How did you become interested in agriculture law?
I am from Michigan even though I am in Arkansas right now, and I grew up on a small family farm.  My family has a truck garden farm, and we've gone to our farmers market for several generations.
During law school, I had a professor who recommended the LLM program at Arkansas.  I looked into it, and took the opportunity to complete the one-year program.  That turned into a job at the National Ag Law Center and it kind of all went from there.
What is your current role and what type of work are you doing?
I currently work as a senior staff attorney for the National Ag Law Center at the University of Arkansas.
It's hard to describe day-to-day work here at the Center because it changes so rapidly even within a given day.  Generally speaking, we do research, information, and education in areas of agriculture law.  In any one day we could be talking to a policy maker at a state, federal or local level, we could be talking to a producer about something affecting their operation, someone in an agribusiness role, someone in a lobbying group, or really anyone who has questions about the application of agriculture law.  We have a national reach and field questions from a lot of different places in the country.  My specific work is more focused on animal agriculture, but I still get to see a lot of different questions.
How did you find AALA?
I went to my first AALA conference when I was a student at the LLM program in Arkansas.  Since then I've continued to be involved in different ways while working at the Center.  I keep going back because it's wonderful to see so many friends and familiar faces each year.  It's been great to build so many personal relationships with people who all share the same professional interests.  You learn about a lot of the new and emerging issues in ag law.
You're filling the remainder of Jennifer Zwagerman's term on the board.  What do you hope to accomplish, or be a part of during your term?
I really hope to continue to develop AALA, and hope to move it into more stable direction with more outreach and increased opportunities for members to interact with the association.  And I really want to make sure we do more to give members more benefits for being a part of AALA.
What do you see as the challenges and opportunities coming in agriculture and law?
On a policy level, I think the coming farm bill is going to be a big issue.  I question whether we can actually pass a farm bill in the current political environment of Congress.
In terms of the smaller, more micro view of agriculture, I think figuring out how different forms of agriculture can work together is going to continue to be an issue.  There's room at the table for everybody.  Large scale, commercial ag, commodities, and smaller scale agriculture can all work together.  But, figuring out how we get everyone to work together for a safe, healthy food system has been a challenge and it's going to become more so in the coming years.
Technology that's becoming more available is going to be really interesting as we look ahead.  There are huge opportunities and challenges with its continued adoption and usage.  Additionally, both a challenge and an opportunity will be found in the continuing transfer of agricultural operations.  In the next few decades, it will increase dramatically, leading to opportunities for ag lawyers in the transfer, buy/sell, planning, and business capital processes.  However, it's also a challenge for agriculture in general, in terms of access for the new and beginning farmers.