Featured Member: Brian C. Buescher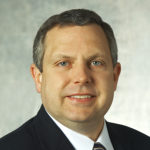 Employer: Kutak Rock LLP, Omaha, NE
Education and Work Experience:
University of Nebraska, Lincoln, Nebraska; Bachelor in Economics and Political Science
Georgetown University Law Center, Washington, DC, Juris Doctor, May, 2000.
Kutak Rock LLP, Partner, Omaha, NE; Chair, Agribusiness Litigation Group, (firm attorney 2000-present), Admitted, Nebraska and Iowa State and Federal Courts, United States Court of Federal Claims, Eighth Circuit Court of Appeals
AALA Participation:
I have presented at various AALA annual symposia on legal issues affecting agricultural operations. I served as chairman of the AALA Awards Committee (2014-2016); I was honored to receive the AALA Excellence in Agricultural Law for Private Practice award in 2017.
How did you get interested/involved in agriculture law?
I have been involved in agriculture since being raised on a hog, cattle, corn, sorghum, and alfalfa farm located near Deweese, Nebraska (population 69).  I continued to be involved in agriculture to some extent during my college and law school years, returning at times to work on the family farm.  I decided to return to Nebraska immediately after law school for a career, and I began focusing my work on agricultural law as I gained experience and my practice grew.  I now spend a considerable majority of my time on matters involving agriculture in some way.
What is your current role and what type of work are you doing for agriculture?
I serve as the chair of the National Agribusiness Litigation Group for Kutak Rock and have done so for around ten years.  The focus areas of my practice include the packing industry, the food and food processing industry, confinement agriculture, grain and feeds, disputes regarding government regulation of agriculture, agricultural lending issues, class action lawsuits, and real estate litigation.  My practice includes representing some of the largest agribusinesses as lead counsel addressing complex problems, including trial work.  I also represent individual farmers and ranchers in a variety of disputes or general advice.  I also have considerable experience handling matters in arbitration.  In addition, although I am not a transactional attorney, I spend time putting together transactional teams for agribusiness clients and consulting with such teams on complex agricultural transactions.
What are some of the challenges and opportunities you see in your job and the ag law profession?
I believe one of the greatest challenges for agriculture will be how government entities regulate agriculture as the majority of consumers become more and more disconnected with how their food is sourced and produced.  I believe the gradual, and in some cases, rapid change in the regulatory treatment of agriculture is an opportunity for the ag law profession to represent agricultural clients with regard to complying and changing their businesses in response to government regulatory efforts.
I also believe it is an opportunity for the ag law profession to assist agricultural entities, particularly the small and medium sized entities that include many family farms, through the process of diversification.  I believe success for many of such entities in the future will be that farms will need to take advantage of providing products that respond to new product demands from the public.  Diversification will allow such entities to be more successful, particularly during extended times of low commodity prices.
When did you join, why did you join the AALA and what keeps you active in the organization?
I joined the AALA around ten years ago because it was and continues to be the preeminent group of agricultural attorneys in the country.  The AALA provides me an opportunity to become more well-informed on the legal areas I deal with every day in the practice of law.  I believe the AALA's success derives from the considerable involvement of lawyers involved in agricultural law from a variety of different perspectives, including from academic, government, corporate, and private practice experiences.