Featured Member: Brianna Schroeder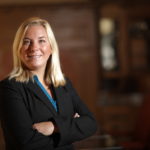 Employer: Janzen Agricultural Law, LLC
Education and Work Experience:
Wilson Elser Moskowitz & Dicker, Chicago IL (2015)
Plews Shadley Racher & Braun LLP, Indianapolis IN (2009 to 2015)
Valparaiso Law School – JD (2009)
Valparaiso University – MS (2009)
Carthage College – BA (2005)
How did you get interested/involved in agriculture law?
I grew up on a farm, so the opportunity to combine my love of the law and farming was a natural fit. Best of both worlds!
What is your current role and what type of work are you doing for agriculture?
I represent everything from single farmers and startups to midsize ag businesses. My work focuses on litigation, land use, employment law, regulatory compliance, environmental challenges, and contract negotiation. The key to our practice is the focus on agriculture as an industry rather that one type of specialization.
What are some of the challenges and opportunities you see in your job and the ag law profession?
It can be a challenge to be a woman in fields that are still male-driven, I think women in agriculture and women in law are poised to take top leadership positions in the next few years.
When did you join, why did you join the AALA and what keeps you active in the organization?
I joined AALA in 2015 to attend the annual symposium. There I learned more about the organization, its members, and all the benefits of membership. Now I'm active on several committees and have developed friendships with ag attorneys across the country.