Featured Member: David Barrett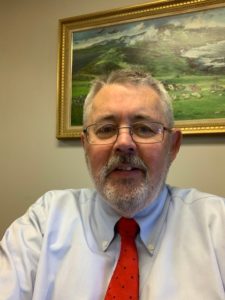 Current employer: Barrett, Easterday, Cunningham & Eselgroth LLP
Education and work experience:
B.S. in Agriculture, The Ohio State University
Juris Doctor, The University of Toledo College of Law
Served as national secretary and in-house counsel for more than 10 ½ years to National Grain and Feed Association, Washington, DC. I advised the NGFA on a broad range of legal, legislative, and regulatory issues, had oversight of the NGFA Trade Rules, and administered the industry's arbitration system.  During that time I also completed the London (England)-based Grain and Feed Trade Association's Gafta Trade Foundation Course on international grain contracts and arbitration at Churchill College, Cambridge, United Kingdom.
Worked with producers and agribusinesses in private practice in Toledo, Ohio, Dublin, Ohio, and Bismarck, North Dakota
AALA leadership roles:
Awards Committee, Marketing Committee, speaker at AALA annual educational symposiums, and contributor to Agricultural Law Update
How did you get interested/involved in agricultural law?
I grew up on a farm in southeastern Ohio, was active in 4-H and FFA, and wanted to be involved in agriculture.  When I was nearing the end of my junior year in college, the dean of The Ohio State University College of Agriculture suggested that I consider being a lawyer. At that time, many farm families were struggling to pay state and federal estate taxes on land that had appreciated during the 1970s. There didn't seem to be many lawyers with an interest in serving agricultural clients. So, it seemed like a real opportunity to assist agricultural farmers and agribusinesses.
What is your current role and what type of work are you doing?
I serve as managing partner of our law firm, which is headquartered in Dublin, Ohio.  I recently moved to Bismarck, North Dakota, and opened a branch office.
I devote the majority of my practice to serving the needs of agribusiness clients (especially grain, feed, and processing firms) throughout North America, including corporate governance, mergers and acquisitions, commercial transactions, rail transportation issues, commercial civil litigation, mediation, and arbitration. I am a frequent speaker on agricultural contracts and business legal issues at industry meetings throughout the U.S.
I also have been appointed by the U.S. Surface Transportation Board to its 11-member Roster of Arbitrators eligible to address rail rate and practice complaints.
What are some of the challenges and opportunities you see in your job and the ag law profession?
There are many opportunities to serve both producer and agribusiness clients. Agricultural clients are unique businesses.  Having an understanding of agriculture is a tremendous advantage when working with agricultural clients.  Traditionally, farmers were often excluded from some regulations imposed on other businesses.  That is no longer true and farming and other agribusiness operations need to adapt to proactively deal with regulatory requirements.
How does AALA help or provide benefit to your profession or current role?
I have been a member of AALA since the mid-1980s.  The educational symposiums have been a great benefit.  However, the opportunity to meet other ag professionals at AALA events has also been a very important benefit. The informal conversations are often very helpful. Additionally, knowing ag attorneys throughout the nation has provided many opportunities to work together.  I have referred matters to other AALA members and received many referrals as well.
What is one of your favorite AALA memories or experiences?
The answer is related to my response to the previous question. The opportunity to meet other agricultural lawyers and then work with them cooperatively to assist a client rank high on my list of favorite experiences.