Featured Member: Drew Kershen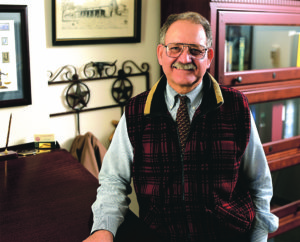 Employer:   University of Oklahoma, College of Law.
Education and Work Experience:  B.A. University of Notre Dame, 1966; J.D.  University of Texas, 1968; LL.M. Harvard University, 1975
For 41.5 years, I was a faculty member of the University of Oklahoma, College of Law.  I retired in June 2012.
How did you get interested/involved in agriculture law?
I grew up on a family livestock/crop farm.  At the end of my first year in college, I reluctantly, but sensibly, concluded that I was not going to become a major leaguer. I knew I wanted to become a lawyer.
I became interested in agricultural law while in law school.  In law school, I remember that the "only" time my courses mentioned agriculture was when a Railroad hit a farmer's cow.  I thought to myself, "Agriculture must have more to do with law and the legal system than that!"
When I became a law professor, I made inquiries about agricultural law and learned that a few law professors had a similar interest.  I convinced the Curriculum Committee of the OU College of Law to allow me to offer a seminar (spring 1975) on Legal Topics in Agriculture.  Shortly thereafter, I met Keith Meyer at the University of Kansas who taught courses in Agricultural Law. He encouraged me in my interest.  In 1980, I convinced my Dean to allow me to focus my attention on agricultural law courses.  For the next thirty-two years, I taught a wide-variety of courses related to agricultural law (including water law).  I became a law professor of agricultural law.
In 1981, I learned about the American Agricultural Law Association (AALA).  I joined and have been active in the AALA as my favorite peer-group organization ever since.
When I retired, I told my Dean that it was time to quit; I had manured enough.
What is your current role and what type of work are you doing for agriculture?
Although retired, I continue to be active in agricultural law as a writer, conference participant, and consultant to lawyers.  I continue to be active in the AALA.  I have a retired-faculty office at the OU College of Law and I go to work in my office almost every day.
I focus my work on agricultural biotechnology law and policy and various water law topics related to agriculture.
What are some of the challenges and opportunities you see in your job and the ag law profession?
I think that the challenges and opportunities in ag law are as exciting and as interesting as ever.  Agricultural law continues to be an area of law in which the practitioner can expect to encounter every type of legal issue.  The work is demanding intellectually and worthwhile socially.  For all the foreseeable years ahead, I think agricultural lawyers can expected a satisfying and rewarding career.
When did you join, why did you join the AALA and what keeps you active in the organization?
I joined the AALA in 1981.  I was delighted to learn of an organization devoted to agricultural law.  I wanted to be active in helping the field of agricultural law grow.  AALA is a wonderful mix of private practitioners, governmental lawyers, interest-group lawyers, academics, and students.
Since then, if my memory is correct, I have missed only four annual conferences.  I think the conferences are great in two ways:  the contacts and friends I have made; the superb substance presented in the sessions.  I have worked for AALA in many capacities and enjoyed my AALA work immensely.  I have great pride in seeing a "young" generation taking leadership in AALA.  In my opinion, AALA has a very bright and exciting future.  Of course, we (the members of AALA) must strive and work hard to create that bright and exciting future.
Editor's note:  Professor Kershen served as President of the AALA (1996-1997), and has received the AALA Distinguished Service Award (2000) and the AALA Excellence in Agricultural Law for Academia Award (2017) in recognition of his more than 20 years of compiling the quarterly bibliography of published articles related to all areas of agricultural law. The bibliography has been published in the AALA Ag Law Update and also posted on the National Agricultural Law Center website: http://nationalaglawcenter.org/ag-law-bibliography/.)