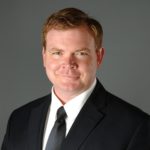 Employer:
Orsborn, Milani, Mitchell & Goedken, L.L.P.
Education and Work Experience:
J.D., Drake University Law School (2009); B.A., Missouri State University (2005); Prior to private practice I worked as Staff Attorney at the Drake University Agricultural Law Center and served in the United States Coast Guard.
How did you get interested/involved in agriculture law?
I grew up in rural southwest Missouri near my grandfather's relatively small family farm in Seymour, MO.  Upon his death the farm was sold, along with my favorite fishing hole.  My interest in agriculture grew upon moving to Iowa and attending law school at Drake University.  Involvement with the Drake Agricultural Law Center allowed me to witness first-hand the importance of the diverse agricultural industry in the U.S. and the significant impact of law and policy on our food system that is so vital yet often unrecognized.
What is your current role and what type of work are you doing for agriculture?
I work at a small firm in Southern Iowa and handle cases in both Iowa and Missouri.  Small town practice, of course, offers the opportunity to get involved in a little of everything, but a significant part of our practice involves ag law clients and cases.  I've been particularly involved in cattle operations, addressing everything from fencing and liability cases to more complicated financing and UCC issues.
What are some of the challenges and opportunities you see in your job and the ag law profession?
As a rural practitioner, I see many opportunities for attorneys interested in agricultural law and living in a smaller, rural community.  It's rewarding to live in a small community where you can witness the impact made by your work and also your involvement in local organizations, and there is a substantial need for more attorneys in rural areas.
When did you join, why did you join the AALA and what keeps you active in the organization?
I initially joined AALA in 2006 as a law student at Drake and upon attending my first conference in Savannah quickly realized the value of the organization as a source for additional education but also connecting with other ag law attorneys across the country.  I'm also very excited and honored to help work on the new Ag Law Update that will once again be published on a quarterly basis.  Overall, the contacts and relationships developed through the organizations are the greatest benefit in staying active.