Featured Member: Jeff Peterson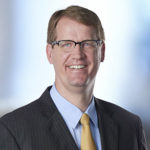 Employer:
Gray, Plant, Mooty, Mooty and Bennett, P.A. (Minnesota)
Education and Work Experience:
Hamline (B.A.), University of Kansas (J.D.), University of Arkansas (LL.M.).  I have been in private practice for 15 years.
How did you get interested/involved in agriculture law?
I grew up on a dairy farm in northwest Wisconsin.  Although I didn't want to wake up at 5 a.m. every morning, I knew I wanted to stay involved with agriculture.  I worked as a commodity trader for 2 years on the floor of the Kansas City Board of Trade after college.  Professor Keith Meyer was my ag law professor at the University of Kansas.  I initially practiced for a small banking law firm in the Kansas City area after law school but, after a few years, I knew that I wanted to get back into agriculture and I enrolled at the LL.M. program at the University of Arkansas.
What is your current role and what type of work are you doing for agriculture?
I am a principal shareholder at Gray, Plant and Mooty and a managing officer of the St. Cloud, Minnesota office.  I represent regional banks, community banks and credit unions in various lending matters including agricultural lending.  I also represent producers, processors, distributors and retailers in various food law matters.
What are some of the challenges and opportunities you see in your job and the ag law profession?
We are increasing seeing volatility in commodity prices.  Price volatility drives change – whether new investment in agriculture when prices are strong or the restructuring of agriculture operations when prices are weak.  Understanding and managing price risk is critical.  Agriculture clients expect their attorney to understand their business.
Why did you join the AALA and what keeps you active in the organization?
I was introduced to the AALA by Professor Susan Schneider.  Some of my closest professional friends are members of the AALA.  I even proposed to my wife at the AALA conference in Savannah, Georgia (not at the conference, but after the conference was over).