Featured Member: Jim Bradbury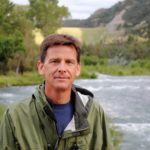 Employer: Partner, James Bradbury, PLLC Austin*Forth Worth
Education and Work Experience:
1988 Graduate of Texas A&M University, BS in Agricultural Economics
1991 Graduate cum laude Juris Doctorate University of Idaho School of Law
Visiting Student, Southern Methodist University School of Law
Jones Day, Dallas Texas 1991-1994
Barrett & Deacon Law Firm Jonesboro, Arkansas 1994-2000
Jackson Walker, LLP Fort Worth, Texas 2000-2007
James D. Bradbury, PLLC 2007-Present
How did you get interested/involved in agriculture law?
Simply put, sitting on tractors on my grandfather's farm in Kansas. I grew up spending summers there every year, chasing cows, hauling wheat and driving tractors.  It got in my blood there and has never left.  I was active in FFA in High School, "studied" Agricultural Economics at TAMU and after graduation from law school I have always pursued agricultural matters to be a part of my practice.
What is your current role and what type of work are you doing for agriculture?
I represent individual producers, including dairies, beef cattle operations, poultry and landowners trying to protect their property.  I pay close attention to policy matters that affect agriculture, particularly in the water and environmental context. Our firm prepares amicus briefs on behalf of agricultural associations and also advises statewide associations on regulatory matters.  In addition, I have been fortunate to be able to teach agricultural law and other courses at the Texas A&M Law School to work with the next generation of young ag lawyers.
What are some of the challenges and opportunities you see in your job and the ag law profession?
Overall the challenges we face as a firm are small compared to those that face our clients involved in agriculture. They face an increasingly ill-informed urban population who is not quite sure whether agriculture is worth saving.  Regulations have increased and these are very difficult economic times for farms and the families that run them.  The main challenges and opportunities are crafting a message that reaches the greater US population explain not only the great history of agriculture but the majesty of producing food for the world.  That is easier said than done, but it has to happen.
When did you join, why did you join the AALA and what keeps you active in the organization?
It was years ago; I was asked to come and speak to the annual meeting and knew that I wanted to be a part of this world.  I love the subject matter and it's a group of high-level thinkers on ag law and policy nationally.  Some of the best minds in agriculture today are in this association.  I have assisted on program planning for the last two years.