Featured Member: Justin Schneider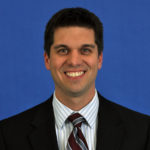 Work:  Director of State Government Relations, Indiana Farm Bureau, Indianapolis, IN
Education and Experience:  B.S. Agribusiness Management, Purdue University, Juris Doctor, IU School of Law-Bloomington, 4-years working Indiana Court of Appeals
How did you find a career in agricultural law?
I grew up on a grain and livestock farm in southern Indiana so farming has always been my thing.  It's where I was at home.  When I went to college and majored in agribusiness management, I intended to go to work in ag sales, marketing, management or at least along that line.  But after my junior year I changed direction and decided to go to law school.  I went to IU in Bloomington, and focused on land use and environmental related issues and that's primarily where I landed in my career.
Current Role:  I am now the director of State Government Relations for Indiana Farm Bureau.  That's a new role for me so I'm still trying to figure all of that out a bit.  Primarily I'm responsible for plotting our strategy with our state general assembly, the Governor's office and agencies, and being a resource to other staff.  I also am responsible for all of our environment, natural resource, and energy issues across the board.  So whether we're working at the state or federal level with EPA, US Fish and Wildlife, that all falls under my umbrella.  I spend a lot of time on water quality issues.  I travel around the state to educate farmers, ag retailers and crop advisors and making sure that farmers are getting good information.  I also oversee our policy development process that starts at the county Farm Bureau level.
My law degree really focuses on policy implementation.  We do have an affiliated ag law foundation and I used to do a lot of that case work.  I still help with some of the legal programming but I am really focused on policy.  If we have members involved with litigation or enforcement, I try to consult so that I can look at what's going on out in the landscape and know how that affects policy.
What do you see as the big challenges and opportunities ahead?
From the ag lawyer perspective I'm constantly paranoid about this increasing trend toward litigation.  We've seen a lot of that, and that really impacts policy decisions.  Whether its environment, land use, livestock operations, its just a trend that is growing.  Every state is trying to figure out how to deal with it.  Farmers are trying to do everything right and this threat of lawsuits is just looming large.
Right to farm legislation is being discussed but the challenge is that it doesn't stop the lawsuits.  Everyone's discussing it but the question remains – what do those statutes or constitutional amendments really get you?  The lawsuits don't go away.  Farmers ask, "Is there a law we can pass so they can't sue me?" and the answer is "No".  There is a constitutional right to access the courts.  This is the game we play in and we have to help our farmers figure out how to deal with the liability, act the best they can, and protect themselves.
How did you find AALA and what motivates you to continue to be a member?
I was introduced to AALA as an intern at Indiana Farm Bureau during law school.  The conference was held in Indiana that year and I attended the conference. A few years later, I presented a breakout session at the conference, got onto the programming committee, then moved onto the board, and now I have the privilege of serving as President.
The national network of people is hands down the biggest benefit that I've gotten out of AALA and it's paid a lot of dividends.  Whether I'm dealing with litigation on an issue, looking for an expert to work with , maybe looking at policy issues on the national or state level, I can reach out to people who have experienced it or have expertise and AALA has been invaluable for that.
You're coming in as the new President to the Board of Directors.  What do you hope you can contribute in your time there?
I'm in the fortunate position that this is essentially year number 5 for me of being in leadership with a few years on the board, one as President-Elect and now as President.  A lot of the ideas I've helped work on have already been set in motion.  We're really trying to change the organization to focus on providing value to our members.
AALA has developed a new website. We are adding more education and networking opportunities. And we need to keep expanding those kinds of ideas.  We want to show that  it is important for ag attorneys to participate and engage in AALA, grow our membership, and by doing that strengthen AALA.
What is your message to the members?
My door is open to you.  Please call or email me any time if you have ideas or concerns about AALA.  Tell us what resources you need and what programming you want to see.  Tell us your ideas for things we can do to take the organization to the next level. We want to be responsive to what we're doing well, what we're doing poorly and what we can do differently.  I want to know about problems and challenges.  I want everyone to see value and feel that we're working on their behalf.
We've tried to make changes and respond but its difficult to know if we're doing it right when members aren't communicating with us.  Don't let it fester.  Reach out to us and let us know if you like something or if you think we need to make adjustments.