Featured Member: L. Paul Goeringer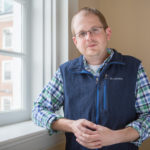 Employer: Department of Ag and Resource Economics, University of Maryland
Education and Work Experience: B.S. Agricultural Economics, Oklahoma State, Juris Doctorate, University of Oklahoma, LL.M, Agricultural Law, University of Arkansas and M.S., Agricultural Economics, University of Arkansas
How did you get interested/involved in agriculture law?
I grew up on my family's wheat and cattle operation in western Oklahoma and have done something in agriculture since I could crawl.  I was active in 4-H and FFA as a kid and went to college to focus on working in the ag industry.  From the moment I went to law school, I knew I was going to work within ag law, I just didn't know where.
What is your current role and what type of work are you doing for agriculture?
I serve as the legal specialist for the University of Maryland Extension.  I work with ag producers around the state of Maryland to understand how laws can impact their operations.  Maryland is a unique state with the Chesapeake Bay in the center of it.  As a result, Maryland ag operations have more environmental restrictions compared to other states.  I spend a lot of my time writing and speaking across the state on these issues.  My main areas of focus are legal issues related to environment, land use, liability, estate planning, and alternative energy.  I also teach the Intro to Ag and Natural Resource Law course in the Department of Ag and Resource Economics.
In the university system, we have developed the Ag Law Education Initiative where I have the opportunity to work with other ag law specialists at UM's School of Law and at UM-Eastern Shore, all focused on providing ag law resources to the legal and ag communities.
What are some of the challenges and opportunities you see in your job and the ag law profession?
Looking at this from Maryland's perspective, it's an evolving land use and environmental laws.  My challenge is to work with ag producers to understand how these changes will impact their operations and how best to handle those when commodity prices might be low.  The other area is potential financial strain due to low commodity prices.  I spend significant time to help producers understand their options when facing financial downturns, and it is never a fun job.  I see a lot of estate planning/farm succession issues as well, where the current generation managing the farm may have never developed a plan for how the next generation will take over.  We have made a lot of strides in the state to get operators to understand what they need to be doing and hopefully getting many of them to develop plans for handing over the farm (either at death or retirement).
When did you join, why did you join the AALA, and what keeps you active in the organization?
I found AALA when I was in law school.  I started out at Oklahoma City University and my understanding is that while Shannon Ferrell was there, he and some others started the Ag Law group that existed while I was there.  We tried to send law students to the meetings each year, but I was never able to go.  I attended my first meetings while an LLM student at Arkansas and have been active ever since.  After my first meeting, I got the opportunity to be a student member of the Awards Committee and served on that committee for a few years.
I've met many great people through AALA and made many friends from attending the annual conference each year.  The annual conference each year is a great opportunity to get my CLE hours in two days.  Now I'm getting the opportunity to serve as membership committee chair this year. Working with the board and the committee to figure out ways to grow the association's membership to bring in new people has been an exciting opportunity.