Featured Member: Mary-Thomas Hart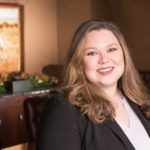 Employer:National Cattlemen's Beef Association, Center for Public Policy
Education and Work Experience:
2014, Berry College (B.S. Political Science)
2017, Samford University (J.D., Master of Science in Environmental Management)
August 2017-Present, National Cattlemen's Beef Association
How did you get interested/involved in agriculture law?
As the sixth generation of a North Florida farm family, I grew up surrounded by agricultural producers and people who worked with them on a daily basis – whether it be extension agents who ensure access to new research, or Department of Agriculture employees that assist with regulatory compliance. However, it wasn't until I interned for Congressman Ted Yoho (FL-03) that I learned about environmental law's important connection to American agriculture. I went to law school with the goal of helping farmers comply with complex environmental laws and regulations.
What is your current role and what type of work are you doing for agriculture?
I am currently the Deputy Environmental Counsel for the National Cattlemen's Beef Association in Washington, D.C. NCBA is the largest and oldest national trade association dedicated to the representation of America's cattle producers. I advocate for NCBA's environmental policy priorities (passed by NCBA's membership) in the halls of Congress and at regulatory agencies including the Environmental Protection Agency and USDA. I also assist in managing NCBA's environmental litigation portfolio.
What are some of the challenges and opportunities you see in your job and the ag law profession?
As more Americans leave rural communities to access jobs in metropolitan areas, the knowledge gap between America's farmers and consumers continues to grow. Our duty, as agricultural attorneys, is to both represent our clients and educate the consuming public. While this may seem like an extraordinary task, we should instead see it as an opportunity! One of my favorite things about working in Washington, D.C. is the opportunity to teach congressional staff and federal agency employees about the beef industry. Education is key to ensure that the chism separating agricultural producers and consumers does not further expand.
When did you join, why did you join the AALA and what keeps you active in the organization?
I joined AALA in 2017 at the beginning of my professional career. AALA is the best place to meet other attorneys and establish relationships in a niche area of the law. AALA has expanded my knowledge base significantly and grown my professional network exponentially.
I am glad to talk with AALA members further about my work and career.
Please log into the members-only website at: members.aglaw-assn.org to see my contact information.