Featured Member: Mike Traxinger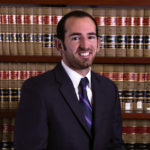 Employer: Agtegra Cooperative, Corporate Attorney
Education and Work Experience: J.D., Drake University Law School (2012); B.A., University of Minnesota – Twin Cities (2007).
How did you get interested/involved in agriculture law?
I was born and raised on a registered beef and row crop (corn and soybeans) operation in Northeast South Dakota where I currently live and assist on my family's operation, Traxinger Simmental. Farming has always been a part of my family's livelihood and I knew that I wanted to be involved in some capacity. Becoming an attorney has allowed me to have a great education that allows me to advocate for my family's farm operation and be a part of the broader agricultural community.
What is your current role and what type of work are you doing for agriculture?
In addition to helping out on the farm, I currently serve as corporate attorney at Agtegra Cooperative, a $2B farmer-owned cooperative with over 6000 member owners, where I counsel the cooperative's accounting, agronomy, grain, operations, and safety divisions, in addition to the Board of Directors, Delegates, senior leadership staff and employees. My father is a member of the cooperative, as are many of my friends and neighbors. It is a great place to work in the field of agricultural law.
What are some of the challenges and opportunities you see in your job and the ag law profession?
With the continued advancement of technology and new farming practices, agriculture is constantly changing, as is the law. Most often the laws are not keeping pace with the changes in technology and we as attorneys need to be able to interpret the law and advise our clients on how it applies. There is also a shortage of good attorneys in agricultural and rural communities, which presents a great opportunity for those of us that want to live and raise a family in rural America. I believe that it is a great time to be an attorney in agricultural law to assist our clients in their family's farm and ranch operation.
Why did you join the AALA and what keeps you active in the organization?
I became a member of AALA before I started law school. I had heard about the organization and met some of its members, including Bill Even and Amber Brady Miller. Bill and Amber mentored me at the first AALA symposium that I attended in 2008 in Minneapolis. At the time, I was still debating about whether or not I should attend law school. They had both attended Drake University Law School for agricultural law and had been members of AALA since they started law school. By the end of the symposium I had made up my mind to attend law school and focus on agricultural law. I have been a member and attended every AALA symposium since 2008.