Featured Member: Susan Schneider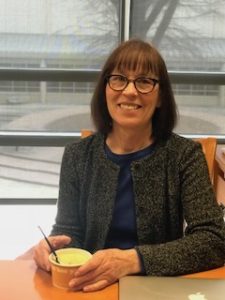 Employer: University of Arkansas School of Law
Education and Work Experience:
I have a J.D. degree from the University of Minnesota Law School and an LL.M. degree in Agricultural Law from the University of Arkansas School of Law.
I have a decade of private practice experience representing farmers and their attorneys in specialized agricultural law cases working with firms in Minnesota, North Dakota, and Washington D.C.
I have two decades of experience designing and teaching specialized agricultural and food law courses in the LL.M. Program in Agricultural & Food Law.
AALA experience:
Former AALA president and two-term board member;
2010 AALA Distinguished Service Award Recipient;
2011 AALA Professional Scholarship Award (for A Reconsideration of Agricultural Law: A Call for the Law of Food, Farming, and Sustainability, 34 Wm & Mary J. Envtl. L. & Pol'y Rev. 935 (2010);
Frequent speaker at AALA Annual Symposium, Food Law Update (since 2008); Agricultural Bankruptcy Update (previously)
Many years of writing for the old Ag Law Update
How did you get interested/involved in agriculture law?
I grew up on a diversified dairy farm in Minnesota. I took an Agricultural Law class as a second year law student and immediately knew that I wanted to work in that area of law.  Gerald Torres taught the class and two agricultural law super-stars were guest speakers:  Jim Massey (who founded Farmers Legal Action Group, FLAG) and Phil Kunkel (now with Gray Plant Mooty).   A severe farm financial crisis was ongoing at that time and family farms were struggling to keep their farms –  I wanted to help. My career began working with Phil in a regional agricultural law practice and continued when I worked with Jim at FLAG. They introduced me to the AALA.
What is your current role and what type of work are you doing for agriculture?
I serve as the Director of the LL.M. Program in Agricultural & Food Law at the University of Arkansas School of Law and teach in the Program. I published the agricultural law book, Food Farming & Sustainability: Readings in Agricultural Law and manage its companion website at foodfarmingsustainability.com.  I try to publish a couple of agricultural or food law articles each year. I speak at legal conferences on agricultural and food law topics, often doing the Food Law Update for the annual AALA Symposium.  I continue to serve on the Board of Directors of FLAG.
And, I now own my family farm with my sister. We will achieve Century Farm status this summer.
What are some of the challenges and opportunities you see in your job and the ag law profession?
Climate Change and the extreme weather events that it is producing present the biggest challenge to farming and our food system. Farmers can be a big part of the solution, and there may be many opportunities presented for farmers to be rewarded for their efforts, but we have to put aside the politics and work together. Agricultural lawyers are needed to assist farmers when they experience weather challenges and the resulting financial stress. They can also help farmers build resiliency into the farming operations through good business planning. And, they can help draft and support policies that will address the challenges we face.
When did you join, why did you join the AALA and what keeps you active in the organization?
I joined the AALA as a law student in the early years of the organization. I stay involved because of my interest in agriculture but also because of the many wonderful friendships I have formed through attending the AALA conferences.