Featured Member: Teena Gunter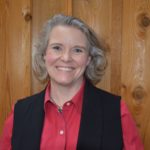 Employer:
Oklahoma Department of Agriculture, Food, and Forestry
Education and Work Experience:
B.A. English Abilene Christian University
J.D. University of Arkansas School of Law
LLM University of Arkansas School of Law Graduate Program in Agricultural Law
23 years with the Oklahoma Department of Agriculture, Food, and Forestry
How did you get interested/involved in agriculture law?
Accidentally, really. I chose Arkansas for law school because I wanted to watch Southwest Conference sports, and on the side, the LLM program looked interesting. For some reason I thought I would want to work in Equine Law, and the LLM might allow me to look at that. I never thought I would actually enter the program. In fact, as a JD student, I took a few of the LLM Ag classes. After I graduated, I hung out a shingle for a year and discovered I am not a hand-holder and therefore made a very poor attorney for your average client. I wanted a change, and so I applied to the Ag Law Program. It took more than 20 years, but I now get to advise the Oklahoma Horse Racing Commission on some issues, so I guess my plan all those years ago has somewhat come to fruition!
What is your current role and what type of work are you doing for agriculture?
I am the General Counsel for the Department and I was also recently named the Director for the Agricultural Environmental Management Services division. I work in all aspects of our agency's regulatory programs. With my new position, I am heavily involved in CAFO, poultry and other environmental regulation. I also write legislation and rules, and generally advise the agency on every topic that might come up for a state agency. I love my job because it is typically something different everyday!
What are some of the challenges and opportunities you see in your job and the ag law profession?
People are so disconnected from farming and true agriculture these days. Ag is villainized simple for doing what it has always done: Raising crops and livestock. I find it frustrating. There is room out there for all types of agriculture, from small organic farms to large livestock operations. As a member of a state department of agriculture, my job allows me to work with farmers, ranchers, and consumers. It gives me opportunities to educate people when I can, whether it be about the difficulties of agriculture today, or the unique issues facing consumers.
When did you join, why did you join the AALA and what keeps you active in the organization?
My first AALA meeting was in 1994 when I was an LLM student at Arkansas. It was in San Francisco and it still probably my favorite location for the meeting to date. I became a member soon after, and with the exception of a couple of years, I think I have been a member since then. I have attended many of the annual conferences and love going to them. Every time I attend a conference, I come back having learned about a new topic that becomes relevant in Oklahoma the next legislative session. The AALA keeps me educated and up to date.