Featured Member: Tyler Buswell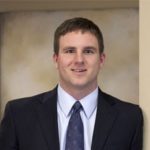 Employer: Shareholder at Kirton McConkie, Salt Lake City, UT
Education:  B.S. American Studies, Minor Political Sciences, Utah State University.  Juris Doctor, S.J. Quinney College of Law, University of Utah
How did you find a career in agriculture law?
Within AALA, I notice people always lead with their farm credentials.  Well, I don't have a lot of them.  I grew up in Kansas, and spent some time in Montana, but I've never worked cows or thrown hay bales.
I really do commercial real estate.  I'm a transactional real estate attorney.  I came out of law school in 2008, which was not a good time to be a real estate attorney in the U.S.  I was lucky have a few large retail office and condominium projects that kind of kept me busy during the recession.  In about 2011, a client of my firm that I had done some small farm or ranch acquisition for previously, was buying a really big farm in the Midwest, and the senior partner brought me in to help with that transaction.  Ever since then, that agriculture and farming part of my real estate practice has just increased more and more and more.
What is your current role and what type of work are you doing?
I am a shareholder in the real estate section of Kirton McConkie with 23 attorneys in our section and more than 150 attorneys total.
I probably do about 40% of my work in acquisition or disposition of large farms, ranches or agriculture operating companies.  Its still mostly real estate but as most of agriculture works, these businesses are a lot more than just the land.  My practice is pretty much nationwide, and I've completed transactions in a significant number of states.  These are usually large investors, or operators or investors in large agriculture companies.
What do you see as the big challenges and opportunities ahead?
I think consolidation of ag investment is a really big issue.  The Monsanto purchase by Bayer Corp is just one, but I think we're going to see more and more of that.  Big ag players are jockeying for position to get bigger.  I'm interested to see how that impacts local agriculture economies and rural areas, the people part of that, and how that creates change.
In my work, the transitions of land from current families to children or large investment owners are also going to increase in the next 10 or 15 years.  That brings in a lot of questions of the role of large investors, what our rural economies look like, who is left to do the work, and even immigration reform.  I think the combination of those issues could really be game changers in the agriculture industry.
How did you find AALA and what motivates you to continue to be a member?
Three years ago, after going from doing just a little ag work to really doing a lot of ag work, and having just completed a massive ag transaction.  I realized I knew ag from doing the work, but I started looking for some ag law CLE's.  I found an ag leasing CLE by a woman in Iowa, and it was pretty good.  I saw her bio and it listed the American Ag Law Association.  That's what got me interested.
I joined and went to my first conference two years ago in Santa Fe.  I knew pretty quickly that with the work I'm doing, I need to be a part of AALA.  The people have just been incredible resources to me.  I've sent a lot of work to those colleagues, gotten a lot of good input on my transactions, and been able to refer quite a few clients as well.
You're joining the board of directors this year.  What do you hope you can contribute in that role?
One thing that is really important to me is having more large practitioners and in-house counsels to participate in AALA.  I think AALA is really top notch in ag policy and agriculture law academics, and we have to keep that strong.  There are some wonderful practitioners as well, but one spot we're missing is larger ag practitioners, and large law firms like mine.  I think that's an area we could grow membership significantly and really add a new dimension to the association.
It's important to me that we figure out how to get AALA more organized. I know there's been some transitions between staff and managers, we switched to a new website, and made a lot of other changes.  As a member I've been a little frustrated trying to track all of that and navigate how to be involved in AALA.  I think there have been some great things happening but we need to be a bit more streamlined.  I know the current board has been really focused on that and I'm really looking forward to being a part of that so we can move AALA ahead.