Featured Member: Eldon McAfee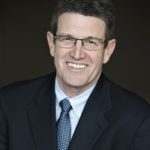 Work: Shareholder, Brick Gentry, P.C., Des Moines, IA
Education: Iowa State University, Bachelor's of Science Farm Operations, Juris Doctor, Drake University Law School
How did you find agriculture law?
"I farmed before I went to law school.  I was a dairy farmer for close to ten years and then I went to law school at Drake as a second career.  I think the combination of an ag background and the legal education is what gives me and other ag attorneys a real advantage in working with rural clients."
Tell me about your presentation at the Educational Symposium? 
"My presentation is titled "Proving Liability for Toxic Food and Water". I'm going to focus on bringing these kinds of cases and proving liability for livestock producers who have had losses due to toxic feed and water issues."
"I've represented several livestock producers who had feed mixed by a company that turned out to cause health problems or death of livestock. And I've had one case where a well was drilled and the water turned out to be not fit for livestock.  These are often feed products that are in and of themselves non-toxic, but if they're mixed in the wrong amounts or in the wrong amounts for a specific species, then you can have really serious problems.  Generally these have been situations with cattle, hogs and sheep where the animals either died or their performance was cut due to feed that was improperly mixed and turned out to be toxic."
How did you become experienced with this topic?
"I specialize in general ag law, but I do a lot of work for livestock producers.  I represent livestock clients on a lot of topics like nuisance suits, livestock production contracts, and environmental regulation.  I just happened to get a few of these cases and once you handle a case or two, you tend to get more of them.  I don't have any particular specialty with food and water toxicity issues, but I have had several cases come through and actually have a few more pending currently."
Your firm is sponsoring part of the Annual Educational Symposium?
"Brick Gentry is sponsoring the Ice Cream break in Oklahoma City this year. We're a pretty broad general practice firm with lawyers specializing in a variety of practice areas including commercial and business litigation, construction and labor issues, real estate and of course agriculture law.  We're based in Des Moines, IA."
"Erin Herbold-Swalwell, Julie Vyskocil and I are the main agriculture lawyers at Brick Gentry, and we're all planning to be at the conference.  We're glad to support AALA and we'll be looking forward to seeing everyone at the Ice Cream social."
Why do you choose to be a member of AALA?
"I've been a member of AALA since 1988 as a student member.  I graduated law school in 1991, and continued my membership.  I've been a part of AALA for going on 30 years now."
"I specialize in ag law but in my area of the country and my law practice, its pretty specialized to livestock issues in Iowa.  Some of the issues that other attorneys might find in other states may or may not impact my work but it does broaden my horizons to see what others are dealing with.  AALA keeps me from getting too much tunnel vision.  The world of ag law is big and AALA lets me step back and see what else is going on."
"You can get generic and quality CLEs online but it's the networking, the being in one place with so many great diverse attorneys that really makes AALA worth my time and commitment to be a member."