Featured Member: Kitt Tovar Jensen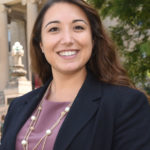 Employer:  Center for Agricultural Law & Taxation at Iowa State University
Education and Work Experience:
Iowa State University, B.S. Animal Science (2014)
Drake University Law School, J.D. with honors (2018)
University of Arkansas School of Law, LL.M. Food and Agricultural Law (expected 2021)
Staff Attorney at CALT (2018-present)
How did you get interested/involved in agriculture law?
I grew up in southeastern Wisconsin surrounded by dairy farms. My intention during undergrad was to become a large animal veterinarian, but after spending time as an Animal Production research assistant at the University of Lleida in Catalonia, Spain, I became more interested in the laws and regulations impacting agriculture. After an internship with the National Pork Producers Council in Washington, D.C., I learned about the agricultural law program at Drake Law School. It was at law school where I gained valuable agricultural law experience by working for the Iowa Farm Bureau Federation and GIPSA. This experience solidified my desire to work in agricultural law.
What is your current role and what type of work are you doing for agriculture?
I am the Staff Attorney at the Center for Agricultural Law and Taxation at Iowa State. I work with producers, bankers, tax professionals, and lawyers. I research and present on a wide variety of legal issues. My work focuses on lease law, fence and property law, environmental and natural resource law, farm estate and transition planning, regulatory law, and farm policy. One of my favorite parts of my job is helping teach Iowa State's senior level agricultural law class.
What are some of the challenges and opportunities you see in your job and the ag law profession?
Fewer people are entering agricultural law. Many people who would make fantastic agricultural or rural attorneys are not able to attend school because the cost of higher education outweighs the ROI. This means people living in rural areas will have a more difficult time finding an attorney, let alone someone who understands farming legal issues.
When did you join, why did you join the AALA and what keeps you active in the organization?
I joined AALA as a law student. I enjoy the diverse topics the symposiums offer, in addition to the opportunity to meet other attorneys who are interested in this area. I now serve as a Committee Member for the Marketing Committee.
I am glad to talk with AALA members further about my work and career.