Featured Member: Patrick (Pat) B. Dillon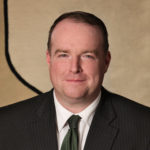 Work: Dillon Law, Sumner, IA
Education and Work Experience: Iowa State University, Agricultural Studies, 4 years active duty as a United States Transportation Officer, Juris Doctor, Drake Law School
How did you get into Agriculture Law?
"I've been working on the family farm for as long as I can remember.  I work with my brother Tim and my father Jack to raise cattle and grains in northeast Iowa.  I grew up in a small community and in agriculture so it just fit."
"I think there's an real advantage to having an ag background, but I also really enjoy living in a small community and being in a rural area that lets me work in law, and still be a part of my family's farming operation."
"In northeast Iowa, I think farmers and ag clients value lawyers who speak ag.  I had a case early on where a client wanted to switch lawyers and come to me with his case.  I told him I wasn't sure they wanted to do that since the case had already been filed.  He said, 'No, this case is about sharecrop lease, and when I told him something about the cost of the Roundup, my attorney said he didn't realize there were horses involved.  I need an attorney that understands what I'm talking about.'  So, of course I took the case for him."
What is your current role and what type of work are you doing?
"First off, I'm a lawyer supporting my farming habit.  Dillon Law is a small firm with my wife Jill and I as the only attorneys.  We are in a non-county seat town and are doing general practice – ag real estate, about 400 tax returns a year, estate planning, criminal defense, litigation, collections, business formations and a few things in between.  We're kind of like Atticus Finch.  Between Jill doing the divorces and family law and my handling all the other stuff, we're pretty much doing everything but patents and workman's comp."
Challenges and opportunities
"I think one of the biggest challenges is to provide valuable services for the clients that we serve.  There are endless opportunities for a consumer to get generic legal services from various online sources.  The smart consumer knows that there are free resources out there but the smarter consumer needs to know that an attorney can make sure that they're getting the right forms and advice.  Communicating that to the end user is going to be critical otherwise our business is going to be outsourced or go the way of so many other service industries.  We fight that with the court system becoming more electronically based.  We don't go to the courthouse as much.  We don't see the other attorneys as much, and we need to be conscious of that, especially in our rural areas."
"I think the opportunities are here to provide good, and personal, direct services to folks.  Ag is the only sector that has its own department in our federal government, so there is a lot of rule and regulation that affects only ag and as we're seeing more sophisticated rules coming down, its going to be more and more important that we have lawyers who understand what our agricultural clients need."
Why did you choose to be a member of AALA and what keeps you so active in the organization?
"As far as I'm concerned, it is THE national ag law association.  It exposes you to a wide variety and facets of ag law.   At the AALA meetings there are lawyers who represent someone making cookies in their basement and right next to them is someone that represents the largest of the large agribusiness industry and consumer groups.  Every one of them provides a different aspect or viewpoint, and that helps each of us grow in our own sphere of ag law.  I've used my AALA directory for referrals, it's helped me find expert witnesses, and it helps me stay out in front of ag topics so I can stay ahead of topics before my farm clients start asking questions about them."
"Every conference and education opportunity that AALA offers gives you another window, another nugget of knowledge, and there's something there whether you think you study real estate or estate planning AALA is going to provide a benefit."