Featured Member: Austin Vincent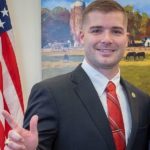 Employer:
I am currently a third-year law student at Texas Tech University School of Law with post-graduate plans to work for Crenshaw Dupree & Milam.
Education and Work Experience:
Texas Tech University School of Law, J.D.; Texas Tech University, B.B.A. and B.S.;
Research Fellow for the National Agricultural Law Center (2019-2020)
How did you get interested/involved in agriculture law?
I grew up on my family's cow-calf ranch in northeastern New Mexico, where my passion for agriculture was formed and cultivated. While contemplating why I wanted to go to law school, I thought back to my roots and saw an opportunity to give back to my rural community and the agriculture industry. During the summer before I started law school, I affirmed my desire to pursue a career in agricultural-related law while interning with the National Sorghum Producers. Through that experience I discovered the imbalance between legal advocates in support of agriculture compared to those in opposition. This realization, coupled with my interest in agriculture, prompted me to create the Tech Agricultural Law Association (TALA) at Texas Tech School of Law.
What is your current role and what type of work are you doing for agriculture?
Currently, I am a research fellow for the National Agricultural Law Center. Additionally, I am the president and founder of the Tech Agricultural Law Association at Texas Tech University School of law. Through TALA, we strive to facilitate in bridging the knowledge gap between urban and agricultural lifestyles, bringing awareness to future rural and semi-rural practitioners in why a general understanding of agriculture-related issues is necessary, and to establish a network of mentors and opportunities for students interested in an agricultural-related legal career. Also, I am a third-year member of the Symposium Planning Committee and Law Student Outreach Committee, where we work to provide valuable learning experiences for law students and encourage students from across the country to attend the annual AALA symposium.
What are some of the challenges and opportunities you see in your job and the ag law profession?
The biggest challenge I see is the growing legal deserts in rural agricultural communities throughout the country, especially in the West. Many small-town attorneys in the West are nearing or at the age of retirement, with no one interested in picking up their practice. When these attorneys finally retire, it creates a greater burden on rural citizens and agriculturalists who need legal help for issues ranging from estate planning and writing a will to property and contract disputes. However, this challenge is also an excellent opportunity for young attorneys looking for an exciting and rewarding legal career.
When did you join, why did you join the AALA and what keeps you active in the organization?
I have been a member of AALA since my first semester of law school, the fall of 2017. I joined the AALA for the opportunity to network with practicing attorneys in the field of agricultural law, to meet fellow students with similar interests and career goals, and to grow my knowledge and understanding of issues and careers in agriculture law. I continue to be an active member in AALA because of the excellent learning opportunities at the annual symposium, the phenomenal network of attorneys and ag law-related professionals who are always more than willing to connect and give a helping hand, and to reconnect with friends and mentors from across the country that I have met through the AALA.
I am glad to talk with AALA members further about my work and career.
Please log into the members-only website at: members.aglaw-assn.org to see my contact information.