Featured Member: Joan Archer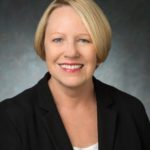 Employer: Farmobile LLC
Education and Work Experience:
B.A., Gonzaga University (1982)
M.A. Wayne State University (Detroit) (1984)
J.D. University of Kansas (1992)
Ph.D. University of Kansas (1993)
After law school, I served as Law Clerk to Justice Fred N. Six of the Kansas Supreme Court.  I worked as a trial lawyer at several firms, focused on complex business and intellectual property litigation and IP protection (trademarks, copyright, trade secrets)/licensing.  For almost 5 years, I was a partner at Husch Blackwell LLP in the Food and Ag business unit prior to becoming General Counsel at Farmobile.
How did you get interested/involved in agriculture law? 
Unlike other Featured Members, I did not grow up on a farm. My family did have an acre with a horse and a giant garden at my childhood home in Spokane, Wa.  While practicing in the heartland, I represented a growing number of food and ag clients developing both an expertise and deep passion and respect for this practice area. Clients in this space are authentic, intellectual and genuinely respectful. Ultimately, I gravitated to Husch because of its food an ag focus.
What is your current role and what type of work are you doing for agriculture?
Farmobile is a nearly seven-year-old agricultural data company.  I am the company's first GC, so I do just about everything legal!
What are some of the challenges and opportunities you see in your job and the ag law profession?
Start-ups want to move quickly on everything, but as a business "grows up" it benefits from the voice of a lawyer—we tend to be more conservative and focused on balancing risks.  My CEO and I joke that I am that voice on his shoulder.  Dealing with technology and data in agriculture is challenging given the currently fast-paced changes regarding privacy and data laws and regulations around the world.  But our company was founded on the principle that farmers own and should control the fate of their data, so we welcome and embrace these changes.  I think every ag law attorney should become well-versed in the issues surrounding data so they can counsel clients on their rights and how to protect data as an asset for future generations.
When did you join, why did you join the AALA and what keeps you active in the organization?
I joined AALA not too long after I moved my practice over to Husch Blackwell.  I am active in leadership roles in both ACC and the ABA Litigation Section.  I've observed there is very little focus in such professional association on food and ag.  This organization fills an important gap, providing resources, education and connections to help make me a better ag lawyer.