Featured Member: Kelcy Schaunaman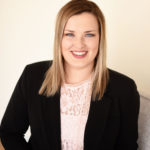 Employer:   In May, I graduated from the University of South Dakota School of Law, and I am currently studying for the South Dakota Bar Exam.  In August, I plan to move to Washington, D.C., and pursue a career in agricultural law and policy
Education and Work Experience:
University of South Dakota School of Law, J.D. – 2020
South Dakota State University, B.S. in Agricultural Business – 2016
Work Experience:
Research Fellow at the National Agricultural Law Center – 2019-2020
Law Clerk at Siegel, Barnett, & Schutz, L.L.P. – Summer 2019
Legal Intern at House Committee on Agriculture – Summer 2018
How did you get interested/involved in agriculture law?
Since growing up on my family's farm in northeastern South Dakota, I've always had a passion for agriculture.  After finishing undergrad, I worked at a regional agricultural cooperative before I realized that law school was my next step.  However, it wasn't until Mike Traxinger introduced me to AALA my first year of law school that I knew that I wanted to be able to use my law degree to help farmers and ranchers.  AALA solidified for me that agricultural law and policy was what I wanted to do and allowed me to realize the numerous opportunities available to work in agricultural law.
What is your current role and what type of work are you doing for agriculture?
I am not currently employed as I am studying for the bar exam, but I am seeking opportunities in Washington, D.C., beginning in August.
While in law school, I was a Research Fellow for the National Agricultural Law Center and was the President and Founder of the Agricultural Law Society at the University of South Dakota School of Law.  The Agricultural Law Society was created to bring together students with an agricultural background as well as educate students on the widespread impact of agricultural law.  My first two years of law school I was the only student from USD School of Law that attended AALA, but by my third year six students from USD attended.  My hope is that the Ag Law Society will continue to grow and flourish.
What are some of the challenges and opportunities you see in your job and the ag law profession?
As less and less people come from an agricultural background, it will be a challenge to bridge the gap between producers and consumers.  However, there are also opportunities for those of us with a passion for agriculture to advocate for the needs of everyday farmers and ranchers with policy that helps to mitigate the challenges faced in agriculture.
When did you join, why did you join the AALA and what keeps you active in the organization?
I have been a member of AALA since my first semester of law school in the fall of 2017.  I joined AALA for the opportunity to connect with other professionals with a passion for agricultural as well as a great resource to learn about the current issues affect agricultural law and policy.  I have been on the Symposium Planning Committee as well as the Law Student Outreach Committee.
I am glad to talk with AALA members further about my work and career.
Please log into the members-only website at: members.aglaw-assn.org to see my contact information.