Featured Member: Maureen Kelly Moseman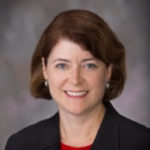 Employer:  I serve as Executive Director of the American Agricultural Law Association (AALA) as an independent contractor.
Education: 
J.D., William Mitchell College of Law (now the Mitchell Hamline School of Law) in St. Paul, Minnesota.
B.A. Economics, Minor in Science, Technology and Public Policy, Carleton College, Northfield, Minnesota.
What is your current role and what type of work are you doing for agriculture?
AALA's mission is to be the premier association for agricultural law and policy professionals. As the newly appointed executive director of the AALA, I provide support to our Board of Directors and strengthen the AALA through organizational efforts and implementing the newly adopted strategic plan.  The plan focuses on expanded educational opportunities for members and member engagement and professional development. I will work with our membership and committees to create those opportunities so that our members are well prepared to address vital and cutting-edge agricultural law issues.
Why did you decide to take on the job as executive director?
I am passionate about the AALA and its ability to create professional opportunities for its members.  Not only have I been an active member and volunteer within the organization, I also have the benefit of relevant experience with nonprofit association management. I am very familiar with the AALA, having twice served on its Board of Directors (President in 2009) and having been appointed the interim executive director in 2014.
I have also served as Board President of a small nonprofit adoption agency, where I focused my efforts on strengthening its mission and financial viability.  That experience taught me a lot about the importance of fiscal management in the nonprofit sector.  The AALA is fortunate to have a Board of Directors with a clear sense of its mission and potential for growth, sound financial stewardship over many decades, and an engaged membership.  It is my privilege to serve the AALA and its members as the AALA is in its fourth decade of service to agricultural law and policy professionals.
Why did you join the AALA?
I have been an active member of the agricultural law profession for more than 20 years.  I joined at the insistence of my former boss and former AALA President, Patricia Jensen, who told me "if you want to know what's going on in agricultural law, you HAVE to be a member of this organization and attend the annual symposium.  The "Who's Who" of ag law are there, and you need to meet them."  As a new attorney, I sure didn't think I had the time to attend the symposium every year, but the symposiums exposed me to the complexities of agricultural law that affected the area I happened to be working in at the time.  The AALA members I met over the years have been generous mentors, colleagues, teachers, friends and even clients.  I am a much better lawyer today for having known them and for knowing I could call anyone in the association with a simplistic question: "I have only surface knowledge of (pick the topic), but this issue came up today, and I'm wondering . . . ."  While the annual conference was the way members met each other when I joined, today the educational programs and the AALA's new digital platform at https://aglaw-assn.org, provide even greater communication and engagement opportunities for our members.
Work Experience and Education:
My work experience includes work in Washington, DC and the Midwest; teaching on food law topics to law and graduate students at the University of Nebraska College of Law; and working in agricultural policy, legislation (authorizations and appropriations), regulations (development and implementation), and federal, state, and private grant funding to support research, teaching and extension programs. Major prior employers and clients include those in academia, agricultural trade associations, the U.S. Department of Agriculture, and the U.S. House of Representatives.
Academia. At the University of Nebraska-Lincoln, I serve as an adjunct professor at the Law College, where I teach part of the Animal Production Law and Policy course led by Professor Anthony Schutz, a former AALA director, with co-instructors Elizabeth Rumley, a current AALA director and Rusty Rumley, an AALA member.  I occasionally teach the Federal Regulation of Food Safety, a semester course designed for law students as well as graduate students in Food Science and Animal Science.  I have been a visiting lecturer at the University of St. Thomas Public Policy Program (joint masters/JD); the University of Nebraska College of Public Health; and the University of Arkansas Food and Agricultural Law LLM program.  I previously served as University of Nebraska-Lincoln's director of federal relations (2013 Farm Bill and annual appropriations), and also worked as a consultant on grant funding and Farm Bill authorizations (2007 Farm Bill).
Private sector. I lobbied for clients as part of two lobbying firms in Washington, DC, where I represented agricultural trade associations (dairy producers, fruit and vegetable growers, soybean farmers) as well as a consortium of historically Black colleges and universities (HBCUs) working on appropriations for biotechnology research.  Major legislation included annual appropriations bills and the 2002 Farm Bill.
Federal government. I served at the U.S. Department of Agriculture during the Clinton Administration (Secretaries Mike Espy and Dan Glickman) working for the Undersecretary for Marketing and Regulatory Programs (former AALA President Patricia Jensen); for the Under Secretary for Research Education and Economics serving as legislative director for four federal research agencies; for the Under Secretary for Food Safety, and for the Administrator of the (then) Cooperative State Research, Education and Extension Service (CSREES), now the National Institute of Food and Agriculture, which manages approximately $1 billion in extramural grants and contracts.  Major initiatives included the 1996 Farm Bill, the 1998 Agricultural Research Education and Extension Reauthorization Act, participation in the development and implementation of the Hazard Analysis Critical Control Points food safety regulation and extensive work with the Food and Drug Administration to implement a presidential executive order in the safety of imported and domestic fresh and fresh-cut fruits and vegetables. My first job in Washington, DC was at the U.S. House of Representatives, where I had the honor of serving as agricultural legislative counsel for U.S. Representative Earl Pomeroy (North Dakota).  I was responsible for Congressman Pomeroy's legislative work related to the House Agriculture Committee, including agricultural programs, natural resources, environment, land use, food, and rural economic development.  Major legislation included the 1994 Crop Insurance Reform Law.
How did you get interested/involved in agriculture law?
Serendipity! When I was an undergraduate student, I competed for a Sloan Foundation public policy fellowship, which allowed me to go to Washington DC as an intern for the National Farmer's Union working on policy issues related to agricultural finance. I wrote an undergraduate economics honors paper on stress in the agricultural financial sector.  That exposure to national agricultural issues piqued my interest.  When I graduated law school years later in the midst of a recession, I planned to work in natural resources or environmental law, but jobs were scarce for newly graduated lawyers.  A friend suggested I look at agriculture as a unique niche in Washington, DC.  When I responded that it had been years since I wrote my undergraduate honors paper on a narrow topic, she replied, "but the law hasn't changed since you wrote about it – your subject matter knowledge is still relevant." As I learned more about agricultural law throughout my career, I have found it to be the perfect blend of my interests in policy, legislation, regulation, natural resources, environment, food, and agribusiness.