Featured Member: Megan Provost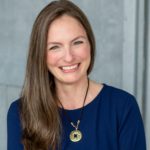 Employer:  RISE (Responsible Industry for a Sound Environment)
Education and Work Experience:  BS and MS in Agricultural Economics from Oklahoma State University; JD from the George Washington University Law School
How did you get interested/involved in agriculture law?  I grew up on a farm in central Indiana, where I was involved in 4-H and FFA and showed horses.  Growing up, I always said that I wanted to remain involved in the agricultural sector, but that I wanted to "dress up" to go to work.  Policy and the law seemed like a good path to provide both of those opportunities.
What is your current role and what type of work are you doing for agriculture?  RISE is the national trade association representing manufacturers, formulators, distributors and other industry leaders in the specialty pesticide and fertilizer industry.  As President of the association, I am responsible for the overall active management and direction of the programs, activities, business operations, and other affairs of RISE
What are some of the challenges and opportunities you see in your job and the ag law profession?  The pesticide industry is one of the most regulated industries in the agricultural sector – it takes nearly $300 million and more than 11 years to bring a new pesticide product to market.  Even in this difficult regulatory environment, litigation around pesticides and pesticide registrations is becoming an increasing challenge, whether it's focused on the Endangered Species Act, concerns around pollinators, pesticide labels, or the jurisdiction of the Clean Water Act.  We need to do a better job educating consumers about the importance and value of pesticides.
When did you join, why did you join the AALA and what keeps you active in the organization?  I'm a relative newcomer to the AALA, just joining in 2018.  In 2019, I attended my first AALA Annual Education Symposium and became a co-chair of the Distance Education Committee.  I've really enjoyed the opportunities to meet and network with fellow attorneys in the agricultural space.
CLICK HERE to learn more about Megan!