Featured Member: Paul Goeringer
Employer:  University of Maryland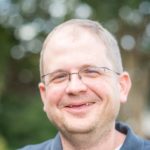 Education and Work Experience:
University of Arkansas, M.S. Agricultural Economics, LL.M. Agricultural Law; University of Oklahoma, J.D., Oklahoma State University, B.S. Agricultural Economics
2012 – Current, Extension Legal Specialist, Department of Agricultural and Resource Economics, University of Maryland
2008 – 2012, Research Assistant, Department of Agricultural Economics and Agribusiness, University of Arkansas
How did you get interested/involved in agriculture law?
I grew up on my family's wheat and cattle operation in Western Oklahoma and went to Oklahoma State knowing I wanted to do something in agriculture once I graduated.  I graduated with a degree in Agricultural Economics and went to law school knowing I wanted to work with farmers in someway.  I was at the University of Oklahoma and met Drew Kershen who introduced me to the world of agricultural law.  This was a world I understood because of my farming background and gave me an opportunity to continue in agriculture doing something I loved.  After law school, I went to the University of Arkansas to get my LL.M. in agricultural law and an M.S. in Agricultural Economics.  My background and education have all helped to set me on a successful path working in Extension outreach.
What is your current role and what type of work are you doing for agriculture?
Currently I work as an Extension specialist in Maryland.  In this role, I get to educate producers on legal issues associated with trying to operate their farms.  Maryland is a state that likes regulations and producers often need help in understanding how to navigate these regulations to better understand how to interact with an attorney.  My work is mainly focused on neighbor relations/right-to-farm issues, environmental, farm succession planning, and energy law.  Here in the past few years, I've also added understanding the new complex world that adding hemp into your operation will cause too.
What are some of the challenges and opportunities you see in your job and the ag law profession?
The biggest challenge I see is the growing numbers with no connection to agriculture.  This lack of connection and understanding of ag can often lead to conflicts or laws that do not make sense for the agricultural community.
When did you join, why did you join the AALA and what keeps you active in the organization?
I joined AALA as an LLM student and came to my first symposium  and loved the ability to connect with other agricultural law attorneys from around the U.S.  I've made great friends within AALA and make great professional connections.
What keeps me active is the opportunity to learn more about the profession and new challenges from around the U.S.  facing agriculture.  I think I get some of the most up-to-date information from being apart of this association.