Featured Member: Elizabeth Burns-Thompson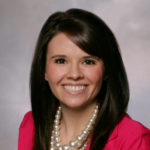 Employer: Iowa Corn Growers Association
Education and Work Experience:
Drake University Law School, Juris Doctorate w/ Agricultural Law emphasis (May 2014)
Iowa State University, Bachelor of Science in Agricultural Business and International Ag (May 2011)
Held internships with the National Agricultural Law Center, Iowa Farm Bureau Federation, U.S. Senate, and Council for Agricultural Science and Technology
Current and Past Volunteer Roles with AALA:
Current Marketing Committee Chair
Former Communications Committee Chair
Former Student Programming Committee Member
How did you get interested/involved in agriculture law?
During college I had a variety of summer internships, but one of my favorites was working for a member of the U.S. Senate. That experience was a turning point for me, and I left that internship wanting to find more ways to get involved in public policy. A mentor at that time told me that if I wanted to be competitive in the world of ag/politics I should consider going to law school, so I enrolled that fall and the rest is history I guess.
What is your current role and what type of work are you doing for agriculture?
In my current role as Government Relations Manager, I, along with my team, essentially serve as a liaison between Iowa Corn farmers and the governmental officials that represent them. On a day to day basis I help farmers navigate and resolve issues with legislative, regulatory, and judicial oversight of their operations. As a trade association, we are regularly lobbying on issues and policies to help improve the farmers' bottom line and ensure the longevity of Iowa agriculture. The best part of my job is the people I get to work for. I love working with farmers. My job has allowed me to combine my agricultural upbringing, professional education, and public policy interests. I feel very blessed to have found that "something" I am passionate about and I get to do it each and every day.
What are some of the challenges and opportunities you see in your job and the ag law profession?
Challenge: Political Polarization – While politics are adversarial by nature, the division between mainstream political parties/ideals seems to have grown further and further apart. This naturally makes it harder for legislators to reach a workable compromise, which is a challenge for those of us that are tasked with advocating for specific policy proposals and positions in the halls of Congress and/or the state capitol.
Opportunities: Technology, Globalization – Agriculture is no longer just a topic restrained to rural America. Farmers today are shipping their products around the world, and with the help of new technologies they are doing so more efficiently and effectively than ever. With the broadening scope of the industry comes a wider range of issues and areas of exploration/specialization for those of us in the profession.
When did you join, why did you join the AALA and what keeps you active in the organization?
I joined AALA during my first year of law school. As a young person aspiring to grow and develop in the field of ag law/policy it seemed like an organization I couldn't afford to miss out on. Over the years that sentiment has remained as true as ever. AALA helped me develop my professional network within the ag law community, and it is those mentors that have helped me grow/develop into a better advocate for our industry each and every day.