Featured Member: Ted Feitshans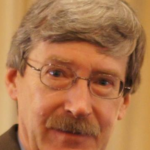 Employer: University of Mount Olive, Division of Agriculture
Mount Olive, North Carolina.
Teach a full range of agribusiness courses in the undergraduate agribusiness program.
9/1/2016 to present
Extension Professor Emeritus
North Carolina State University, Department of Agricultural and Resource Economics (ARE), Raleigh, North Carolina
Education and Work Experience:
GEORGETOWN UNIVERSITY LAW CENTER, J.D., CUM LAUDE, 1986.
Honors: Dean's List; selected as Fellow for 1982 Beaudry moot court competition.  Selected as participant in the Roscoe Pound-ATLA Trial Advocacy clinic.
UNIVERSITY OF MINNESOTA, M.S. in agricultural and applied economics, 1980.
Honors: Department's best M.S. thesis of 1980; awarded research assistantship, 1978-80.
CORNELL UNIVERSITY, B.S., 1978 in general animal science.
Honors: Graduated with Honors and Distinction.
At the University of Mount Olive, I am responsible for teaching in the undergraduate agribusiness program. At North Carolina State University I taught in the undergraduate agribusiness program and conducted the Extension education program in agricultural and environmental law. Prior to that I served in the U.S. Department of Agriculture, first in the Economic Research Service and later in the Agricultural Stabilization and Conservation Service. In the latter agency I served in an office attached to the Administrator's office, where I reviewed draft proposed and final regulations. I served the Grain Warehouse Task Force that was charged with addressing grain warehouse fraud, helped implement the 1984 PIC Program, and the No Net Cost Tobacco Program. from time-to-time I drafted legislative proposals for the Secretary.
This was followed by service in the U.S. Patent and Trademark Office where I served in a small research office. I was later tasked with serving as co-leader of the team evaluating the first attempt to automate the patent database.
How did you get interested/involved in agriculture law?
In my second job in USDA I was tasked with reviewing draft proposed and final regulations before they went to OMB for review. I was from time-to-time asked to prepare legislative proposals for the Secretary. To enhance my ability to perform these tasks, I enrolled in the evening program at Georgetown University Law Center. I had a delightfully diverse class who were employed as Congressional aids, as civil servants, as members of the Armed Services, and in a wide variety of private sector jobs.
What is your current role and what type of work are you doing for agriculture?
I am teaching in the undergraduate agribusiness program at the University of Mount Olive. The program is very much in the development phase. We graduated our first four-year class in May. I am working developing an online program to supplement our face-to-face program. It is exciting to be part of a new program.
I continue to be involved with projects at NC State. I am co-authoring an undergraduate food law text with AALA member Marne Coit.
What are some of the challenges and opportunities you see in your job and the ag law profession?
Designing an undergraduate program that meets the changing needs of the agricultural industry is the biggest challenges of the job. It requires talking with many in farming and agribusiness to ensure that our classes are relevant to current needs while giving students the tools that they need to adapt to changes that we cannot now foresee.
I handled over 150 farm workouts during the farm crisis of the 1980s and early 1990s. While the current economic situation in agriculture is not as bad as it was then, it is bad enough. The current situation requires those of us in the ag law profession to adapt to address the needs of farmers and others in agribusiness that are in financial distress. One of my students recently told me that they are now receiving information with their milk checks about suicide prevention services. From my own experience, I can say that my legal training did not prepare me to deal with farmers with serious mental health problems. We need to do more to help those in our profession address these issues when they are confronted with them.
When did you join, why did you join the AALA and what keeps you active in the organization?
I joined because it was suggested to me by my department head when I joined NC State. I remain active because the people in the AALA are wonderful and I gain much from the annual meetings as well as from periodic webinars.
I am glad to talk with AALA members further about my work and career.
Yes, I am happy to share my contact information.
Please log into the members-only website at: members.aglaw-assn.org to see my contact information.